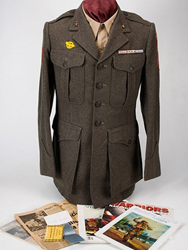 Solana Beach, CA (PRWEB) August 13, 2014
Pawn Stars expert and historian Craig Gottlieb is donating a Marine Corps uniform belonging to Navajo Code Talker George H. Kirk to the Navajo Nation. Gottlieb will be on hand Thursday morning at the Navajo Museum in Window Rock, AZ to take part in ceremonies celebrating "Navajo Code Talkers Day," which was created in 1982 by U.S. President Ronald Reagan.
The uniform had been in storage for years. It was seemingly forgotten when a storage locker bill went unpaid and the contents were sold. The uniform was consigned to Gottlieb's online antique auction earlier this year. When the Kirk family discovered the whereabouts of the uniform his daughter contacted Gottlieb, who immediately pulled it from the sale. Gottlieb subsequently purchased the uniform from the consignor in a private sale, and made arrangements to donate it to the Navajo Nation.
"When I heard the story of how this uniform was lost, I knew I had to get it back where it belonged," said Gottlieb. "I knew the uniform was important to the family, but I had no idea it was such a national treasure for the Navajo."
The Navajo President's office didn't disagree, and arranged to fly Gottlieb in for a tribal cleansing ceremony on Wednesday evening, followed by the official unveiling of the uniform the on Thursday morning at the museum.
The story of the Navajo "Code Talkers" is one that has been told in movies and TV shows, but sadly few objects of historical value that can be directly linked to those brave soldiers have survived.
During World War Two hundreds Navajo served in the United States Marine Corp in front-line combat in the Pacific. Their primary job was the transmission of secret tactical messages using codes based upon their native language. The Japanese never broke the code, which contributed greatly to victory in the Pacific. Even after the end of the war the existence of the Navajo Code Talker program was kept a secret, and the Code Talkers received no recognition until the declassification of the operation in 1968.
Craig Gottlieb has been a multi-season regular on History's Pawn Stars, and is the author of several books on antiques and collectibles. A former U.S. Marine, Gottlieb has traveled the world in search of famous military artifacts. He is renowned for uncovering uniforms belonging to Saddam Hussein, Adolf Hitler and other villainous historical figures. "This uniform is different, and I'm proud to play a small part in its return."