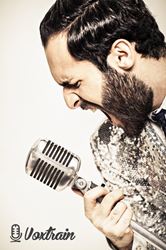 Voxtrain is not just an educational product; it's a new way of thinking.
(PRWEB UK) 15 August 2014
A Voxtrain pass allows users to access a comprehensive singing training curriculum with high definition videos, audios and rich content. The online application also boasts a vocal gym for daily workout and a unique recording function for immediate feedback.
The standard price for a Voxtrain pass is 10€ a month, with fixed term passes of 3 months for 30€, 6 months for 55€ and 12 months for 100€. The Double Pass special applies to these fixed term passes, giving the purchaser double the time for their money: 3 months + 3 months free, 6 months + 6 months free, 12 months +12 months free.
"This is a fantastic opportunity for any singer who wants to improve their voice. Voxtrain is a fun, practical and affordable tool which is now available to early adopters at an irresistible price," says Berlin based entrepreneur Heinz Schrader, co-founder of Voxtrain.