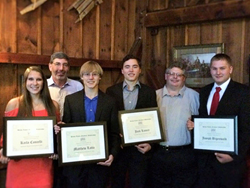 The Founders' Scholarship program has been developed to assist in the costs of continuing education for the children of our employees, as well as investing in the futures of the chosen students.
Schaumburg, IL (PRWEB) August 14, 2014
PSC Group, LLC – an information and technology consulting organization - is proud to recognize the undergraduate college students that have been awarded our Bellak – Lauter Founder's Scholarship.
Students of PSC employees were selected based on a number of criteria, and the Scholarships were awarded during the inaugural Founders' dinners that were hosted last week in both Chicago and Kansas City.
PSC was founded in August of 1990, and has since gained a reputation for honesty, integrity, and trustworthiness. They value employees first, putting individual needs above all else. In honor of the company's two founders; Bruce Bellak and Andrew Lauter, the partners of PSC have developed Bellak – Lauter Founders' Scholarship program.
"When our company was founded almost 25 years ago, a degree of importance was placed on the individuals that we hire, and the development of their personal futures," states John Quirk, Partner. "The Founders' Scholarship program has been developed to assist in the costs of continuing education for the children of our employees, as well as investing in the futures of the chosen students."
Featured during the PSC Founders' Scholarship Program dinner, were the inspirational stories of the students selected to receive the recognition. These eleven recipients included:
JOE BIGENWALD, Joe is a recent graduate from Naperville Central High School. He will be attending the University of Dayton this fall where he will be studying Computer Engineering. Joe is an experienced water polo player having been involved in the sport since the age of nine. At Naperville Central High School, he was on the Varsity Water Polo team for three years and was also named to the National Academic All-America Team. Joe hopes to continue playing Water Polo at Dayton and/or refereeing for Ohio High Schools.
KAILA CANCELLI, Kaila was on the "A" Honor roll all through high school, and a member of the National Honor Society. Additionally, Kaila was selected as member of "Star Program" – Safe, Timely, Accountable and Respectful – A group of select volunteer students to develop programs to positively influence student behavior. Kaila's accomplishments go beyond the classroom and on to the field, as well. A four-year varsity soccer player, and two year Captain of the team. She was chosen for All-conference, All-Area (Daily Herald 600 Athletes in the state), All-Sectional and All-Academic teams. She is an annual volunteer for the Special Olympics, and was selected as a member of Student Athlete Leadership Training – a select group of athletes selected to participate in leadership training. As she enters Indiana University, she was accepted as one of 400 into the Kelly Business School Learning center.
STEVAN GACANOVIC, Stevan is a junior at DePaul University, majoring in Information Technology. Stevan continues to excel academically at DePaul University. He has played soccer with the travel team, Chicago Wind/Chicago Fire Juniors, since he was ten years old and through High School. At Main South High School, he played three years of Varsity Soccer.
Stevan participates in charitable events and is very instrumental in the activities of the Serbian Orthodox Church. He is spending ten weeks this summer in Serbia visiting relatives and friends while seeing the world and experiencing cultural differences.
JACK LAMEY, Jack played Travel Hockey, Football and Baseball growing up. He was also a member of the 14U Midget Football George Young National Champions while on the Park Ridge Falcon Football Program. With a passion in cooking, he is currently working at the Gibson's owned Quartinos as a Line Chef. Jack was selected by the returning champion chef to participate in the Meat Me In Chicago: The fifteenth annual Share Our Strength/Food Arts Championship BBQ & Cookout at Navy Pier, finishing in third place this year.
MATTHEW LATTA, Matthew is a recent High School Graduate. Matthew will be attending College of Lake County where he will be studying Engineering. Through the College of Lake County, Matt has already completed all but one course for a certificate in the Photonics field of study, all before starting his freshman year. Matt is planning to engage in a cooperative transfer program, finishing his degree at the University of Hawaii at Maui.
RACHEL HUTCHINSON, Rachel will be a senior this year at Drury University where she is majoring in Arts Administration and Theatre, with a minor in Communication and Entrepreneurship. Rachel works as costume shop manager, development assistant, and company manager for the Drury Theatre Dept. She is also currently performing research for the City of Springfield regarding their new creative district. She is President of Drury University's chapter of Student Advocates for the Arts. Recently Rachel Co-authored arts and culture section of the 2014 Community Focus Report, which highlights strengths and weaknesses of each sector of the Springfield.
KAYLA POORE, Kayla attends Kansas State University where she is a sophomore, majoring in Business and Spanish. Kayla plays the Piccolo for the Kansas State marching band. She also plans to study abroad in Peru next summer as part of her Business & Spanish double major. She has been an intern for Mission Southside, a charity organization serving the Johnson County area as an English / Spanish translator.
KRISTA POORE, Krista is a senior at Kansas State University, majoring in Business and Spanish. Krista studied abroad in Spain this summer as part of her Business & Spanish double major. She was also selected as the Spanish Leadership representative where she will perform the duties of student leadership mentor to freshmen & sophomore students this fall that will culminate with a trip to Costa Rica, putting into practice both the leadership skills and Spanish skills studied and taught during this fall's semester.
ALEX SPRINGER, Alex is majoring in Business Management at the University of Central Missouri where he will be a sophomore next year. Aside from being committed to his studies, Alex was the only freshman last season on the UCM Men's Golf Team. His team advanced to the Division II National Championships where they finished tied for 6th in the nation.
SHELBY SPRINGER, Shelby is a senior studying Nursing at Saint Luke's College of Health Sciences. Focusing on her health interests, Shelby has become an inaugural member at Overland Park Crossfit. For the past two and half years, in her spare time, she enjoys flipping tractor tires and climbing ropes.
CONNOR WILLSEY, Connor is a sophomore at the University of Kansas, where he is majoring in Finance and is a certified scuba diver. He is also a member of the Kansas City Chiefs Official Stats Crew.
PSC would like to congratulate all recipients of this year's scholarship, and we hope that all members of the PSC family will continue to shine.
ABOUT PSC GROUP, LLC:
PSC Group, LLC is an information technology and business consulting firm that has been delivering high value solutions to our clients since 1990. With offices in Chicago and Kansas City, PSC Group has a history with our clientele that is based on mutual respect, integrity and honesty. We focus on solutions that help our clients achieve their strategic business objectives. Success is collaboration, creation and innovation. It's about helping businesses take what they do best and doing it even better. Our process begins in the way we listen, and ends with our clients experiencing a greater return on their investment. When it comes to the evolution of technology and how it can help make companies successful, PSC Group is there every step of the way. For more information about PSC Group, please visit http://www.psclistens.com.