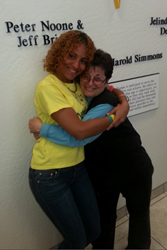 'Travel forces us to step out of our comfort zone, meet new people, and learn about ourselves in ways we can never imagine.' - Stan Rosenberg, Trip of a Lifetime Founder
New York, NY (PRWEB) August 14, 2014
Trip of a Lifetime, a nonprofit organization that empowers underprivileged students to become catalysts for change in their communities through summer travel experiences, sent thirteen students on all expenses paid teen travel trips this summer. This diverse group of students, ranging in age from 14 to 17, all recently returned from their trips and had a lot to say about their experience. While the places they visited are remarkable, what they learned from their journeys is truly exceptional.
Bria Taylor, a rising sophomore at James Madison High School, traveled for two weeks to the West Cost, visiting destinations such as San Francisco and the Grand Canyon. As Bria explained, "This trip brought out the best in me and it actually gave me the opportunity to branch out to new things and it stepped me out of my comfort zone to where I know that I am willing to go the distance. This is not the end for me but just the beginning for something new."
On their trips, students have the opportunity to participate in community service. For Wilmaris DeLaCruz, a rising senior at Manhattan Village Academies, this was the highlight of her trip. Wilmaris volunteered at Unity Shoppe, an organization that helps provide food, clothing, and basic necessities to low-income working families. "Seeing the brightness in their eyes and the smile on their face and the way they would hold my hand and say 'thank you so much' really touched my heart and made me want to continue helping others, which I will do even after this life-changing experience," said Wilmaris. "Unity Shoppe also helped me appreciate my own life because I finally realized and saw it with my own eyes that there are others who have so much less than I do."
"The stories of Bria and Wilmaris are a reminder of the importance of travel in our ever busy lives," says Stan Rosenberg, the Executive Director of Trip of a Lifetime. "Travel forces us to step out of our comfort zone, meet new people, and learn about ourselves in ways we can never imagine."
Click here to explore this year's student stories in more detail.