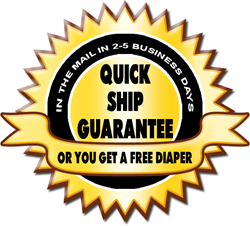 Barrie, ON (PRWEB) August 13, 2014
Glow Bug Cloth Diapers recently announced their new policy of shipping orders from their website within 5 business days or the customer receives a free diaper. They have named the new policy the "Quick Ship Guarantee" and have made it standard for all regular orders. The Guarantee is confirmed at the time of purchase and the customer is sent a link to an article detailing all the information about the Guarantee. You can read the full article here. In the event that Glow Bug Cloth Diapers must ship later than 5 business days from the date the customer places their order, Glow Bug will ship one free diaper automatically with this order.
Glow Bug Cloth Diapers is based out of Barrie, Ontario and has been in business since early 2011 manufacturing and selling cloth diapers. Glow Bug Cloth Diapers is best known for offering cloth diapers that are high-quality, easy to use, fashionable and affordable. Glow Bug Cloth Diapers fit babies from newborn to potty training so you never have to buy diapers again, making them high-quality yet cheap cloth diapers.