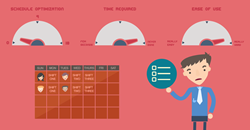 Not all employee scheduling apps are created equal.
Houston, TX (PRWEB) August 13, 2014
EmLogis, a leading provider of automated employee scheduling software, today announced the release of a new video that explains the top four types of employee scheduling software, how they work in different environments, and how to choose the best solution based on a company's scheduling needs. The video explains why not all scheduling solutions can effectively handle demanding employee scheduling requirements in challenging 24/7/365 work environments with heavy compliance needs, union regulations, and other strict rules. These requirements are often found in corrections employee scheduling, law enforcement staff scheduling, nurse scheduling, and long term care staff scheduling.
EmLogis' new video, part 2 in the series, features "Chuck" who is in charge of juggling the employee schedule at his company. Chuck decides to stop using spreadsheets and move to an automated employee scheduling software solution to save time and money. The video follows Chuck's quest to find the best employee scheduling solution for his company. He quickly realizes that not all scheduling apps are created equal. The video highlights the top four types of employee scheduling software solutions and explains their different approaches to employee scheduling. The video shows how Chuck chooses the solution that can handle his company's challenging work schedules and compliance requirements. In the end, he chooses EmLogis because it helps him create the "best" schedule for his complicated workforce every time, improves communication with employees and management, automatically tracks key metrics such as overtime and labor costs, and helps him fill open shifts with ease.
"Our new explainer video is like a buyer's guide for employee scheduling software," said Mark Kirkland, Vice President of Products at EmLogis. "No matter what your employee scheduling needs are, this video will be helpful. EmLogis' approach to employee scheduling is unlike any other on the market because our unique algorithm enables us to build the 'best' schedule every time based on cost, employee preferences, rules, regulations, and more. Not only is EmLogis affordable, easy-to-install, and easy-to use, it is specifically designed to increase employee satisfaction, staff retention, and schedule efficiency in challenging environments. We hope this new explainer video will help companies easily understand the different types of employee scheduling software and help them choose the right solution for their needs."
About EmLogis
EmLogis offers web-based, automated employee scheduling software is specifically designed for challenging and complex employee scheduling environments – such as those that require 24/7/365 staff coverage and have demanding staffing-level requirements, skill-level requirements, or strict compliance requirements. These requirements are often found in Corrections Staff Scheduling, Long Term Care Staff Scheduling, Dialysis Staff Scheduling, as well as many other Public Safety Staff Scheduling and Healthcare Staff Scheduling situations. EmLogis provides a powerful, easy-to-use employee scheduling solution that is easy to install and use and is entirely web-based, requiring no installation, no hardware, and no upgrades. EmLogis' employee scheduling software is proven to reduce staffing costs, ensure staffing level compliance requirements and increase employee satisfaction. Unlike other employee scheduling solutions that can cost hundreds of thousands of dollars and can take a year or more to set up, EmLogis is easy to use, affordable, and can take as little as 14 days to implement.
Headquartered in Houston, Texas, EmLogis serves customers worldwide primarily in Corrections, Public Safety, Healthcare, and Long Term Care environments. Contact EmLogis at +1-888-302-9830 or visit http://www.emlogis.com for more information.
EmLogis and SmartRules Scheduler™ are trademarks of EmLogis Inc. in the United States and other jurisdictions. All other company and product names may be trademarks of their respective companies.