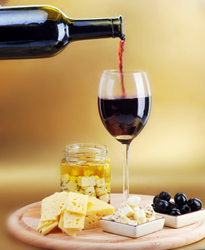 Beltsville, MD (PRWEB) August 14, 2014
Maryland's leading wine, craft beer, and spirits superstore, Old Line Fine Wine, Spirits & Bistro in Beltsville, MD, will be hosting "The Somm Wine Tasting Class" with sommelier Jaren Keller and Old Line Wine program director Carey Callahan on Thursday, August 21st from 6-8PM.
Old Line has recently been offering special wine tastings and events, specifically designed to offer some of the best brands they have in-store. Whether an avid red wine connoisseur or interested in trying something new, individuals will learn the basics of wine from sommelier and manager of the popular restaurant Range, Jaren Keller. This inaugural class will be followed by a wine pairing dinner prepared by Old Line Executive Chef Ed Reynoso.
"We're fortunate to have Jaren lead a series of tasting classes here at Old Line," says wine program director Carey Callahan. "This is a great opportunity for customers to taste the eight major varietals of wines while learning from an expert."
Jaren Keller has led a distinguished career starting in Washington, D.C. at Morton's Steak House and then Vidalia before moving to the acclaimed Alinea in Chicago, IL. Keller has worked in Napa Valley where he honed his knowledge of the world class wines at the French Laundry, a perennial top 50 in the world. He made the move back to the area to work with Bryan Voltaggio and his restaurant Range.
This educational wine event will be an introduction to the fall series of classes that will focus closely on great wine varietals and the wine regions of the world. Tickets for the tasting are $30 per person and it includes eight to ten wines and a cheese tray to enjoy. Tickets for individuals interested in the optional dinner and wine pairing are $50 per person. Guests will also receive a 10 percent discount per bottle on the wines tasted. Customers can register for this event at http://www.oldlinewine.com/events/somm-wine-tasting-class/.
About Old Line Fine Wine, Spirits & Bistro:
Located in the heart of Beltsville, MD., Old Line is one of Maryland's largest fine wine, beer and spirits retail stores, specializing in an array of craft and domestic beers and spirits and top-notch tastings and education events. The beer, wine and spirits store also boasts their own in-store bistro, specializing in small and large plates and a selection of craft beers on tap. To see what Old Line Fine Wine, Spirits & Bistro can do for you, visit http://oldlinewine.com.