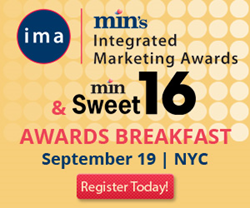 New York, NY (PRWEB) August 13, 2014
min will be honoring the top integrated marketing campaigns and people in more than 20 categories – ranging from Marketing Team of the Year to Best App Integration on September 19, 2014 at New York's Grand Hyatt. The finalists of the Integrated Marketing Awards set industry standards for what magazines can do for their clients.
See the complete list of this year's Integrated Marketing Awards Finalists.
min will also recognize this year's Sweet 16 honorees, the most influential media buyers and brand marketers who have consistently championed magazine brands.
Sweet 16 Honorees Include:
-Lindsay Lichtenberg, Vice President, Publishing Platforms and Partnerships, Starcom MediaVest Group
-Matt Petersen, CEO, McMurry/TMG
-Kelly Foster Shaprio, Senior Partner, Print, GroupM
-Kari Seitz, Managing Director, OMD
-Brent Poer, President of Liquid Thread, Starcom Mediavest Group
-Rob Lynch, Vice President, Brand Marketing and Innovation, Taco Bell/Yum Brands
-Greg Galbraith, Director of Advertising, Converse
-Christine Peterson, U.S. Group Media Director, MRY
-John Fredette, Manager, Global Media and Sponsorship Marketing, IBM
-Lori Pantel, Vice President, Global Marketing, Barbie
-Heidi Petz, Vice President, Marketing, The Valspar Corporation
-Kim McCullough, Brand Vice President, Land Rover North America
-Doug Scott, President, OgilvyEntertainment New York, USA
-Adam Shlachter, Senior Vice President, Media Strategy, DigitasLBi
-Gary Ross, Senior Brand Director of Tequila, Beam Inc.
-Alan Bethke, Vice President, Marketing, Subaru of America
Keynoting the awards breakfast will be Jason Hill, director of global media strategy at GE. In his revealing keynote, Hill will explain the must-have elements of large-scale integrated campaigns and how technology, data and strategic media partnerships are best leveraged in a rapidly changing advertising landscape. Guest presenters for min's Integrated Marketing Awards and Sweet 16 Breakfast include David Adelman, managing director at OCD Media, LLC; Lia Joo, senior strategist at The Media Kitchen; and Kristie Shields, director of Media Strategy at CREATURE.
The winners and honorable mentions of the prestigious Integrated Marketing Awards will be celebrated at a breakfast on September 19, 2014 at the Grand Hyatt in New York City from 8:30 – 10:30 a.m. Individual tickets along with tables of seven and ten are available for purchase. Table purchases come with priority seating and ensure attendees are seated together. For more information or to register for the awards breakfast, click here.
"One of the most exciting aspects of the media business is the creation of highly ambitious integrated campaigns that leverage the many platforms and audience segments magazine brands have to offer," says Bill Mickey, editorial director of min. "min's Integrated Marketing Awards and our Sweet 16s are a terrific way to honor some of the best marketing programs out there—and teams behind their creation—and it's always great fun to see how print, digital, social and live events come together to form such amazing campaigns."
For more information about the awards breakfast, visit http://www.minonline.com/ima/2014finalists.
For questions about attending the Integrated Marketing Awards and Sweet 16 Breakfast, contact min's Marly Zimmerman at mzimmerman(at)accessintel(dot)com. For information regarding congratulatory ads in the program guide or to become an event sponsor, contact min's Tania Babiuk at tbabiuk(at)accessintel(dot)com.
The Integrated Marketing Awards and Sweet 16 Breakfast is presented by min, the industry's trusted source on the consumer and b2b magazine business, reaching thousands of media executives through print, online and in-person events. For more than 60 years, min has been serving the magazine and media community with unparalleled coverage of this ever-changing industry. For more information, visit minonline.com.