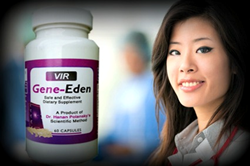 EBV is found all over the world. Most people get infected with EBV at some point in their lives. - CDC (6)
Rochester, NY (PRWEB) August 16, 2014
"Infected with EBV? The CBCD recommends taking Novirin or Gene-Eden-VIR." - Greg Bennett, CBCD
According to Dr. Rick Nauert Ph.D., attachment anxiety is a disorder that concerns anxieties about one's close relationships, and it "can fuel chronic stress that compromises our immunity from infection and other physical conditions." (See Psychcentral.com, from February 12, 2013) (2) Dr. Nauert is currently an associate professor for Rocky Mountain University. In a new study, Dr. Fagundes and colleagues wrote that "Attachment anxiety, a type of relationship insecurity characterized by worry about rejection and abandonment, is a chronic interpersonal stressor. Stress impacts cellular immunity, including herpes virus reactivation…individuals with more attachment anxiety had higher EBV VCA IgG antibody titers (a measurement of how much antibody an organism has produced) than those with less attachment anxiety…because elevated herpes virus antibody titers reflect poorer cellular immune system control over the latent virus, these data suggest that high attachment anxiety is associated with cellular immune dysregulation." (1) Dr. Fagundes and colleagues are from the University of Texas. In other words, those who had attachment anxiety had high numbers of latent EBV DNA proteins in their systems. Moreover, when the immune system is damaged, as when an individual experiences attachment anxiety, it creates the right environment for a latent virus to reactivate, leading to a variety of symptoms and diseases.
Click to learn more about EBV symptoms.
The Center for the Biology of Chronic Disease (CBCD) recommends that individuals infected with EBV take Novirin or Gene-Eden-VIR. The formula of these natural antiviral products was tested by Hanan Polansky and Edan Itzkovitz from the CBCD in two clinical studies that followed FDA guidelines. The studies showed that the Gene-Eden-VIR and Novirin formula is effective against HSV and other viruses. The clinical studies were published in the peer reviewed, medical journal Pharmacology & Pharmacy, the first, in a special edition on Advances in Antiviral Drugs. Study authors wrote that, "individuals infected with EBV…reported a safe decrease in their symptoms following treatment with Gene-Eden-VIR." (3) The study authors also wrote that, "We observed a statistically significant decrease in the severity, duration, and frequency of symptoms." (3) In addition, this natural antiviral was recently proven to reduce mental and physical fatigue in a post-marketing clinical study that followed FDA guidelines.
Both products can be ordered online on the Novirin and Gene-Eden-VIR websites.
Novirin and Gene-Eden-VIR are natural antiviral dietary supplements. Their formula contains five natural ingredients: Selenium, Camellia Sinesis Extract, Quercetin, Cinnamomum Extract, and Licorice Extract. The first ingredient is a trace element, and the other four are plant extracts. Each ingredient and its dose was chosen through a scientific approach. Scientists at polyDNA, the company that invented and patented the formula, scanned thousands of scientific and medical papers published in various medical and scientific journals, and identified the safest and most effective natural ingredients against latent viruses. To date, Novirin and Gene-Eden-VIR are the only natural antiviral products on the market with published clinical studies that support their claims.
Attachment anxiety is also known as separation anxiety. (2) Dr. Nauert wrote that a study published in the journal Psychological Science, found that "Individuals who are on the high end of the attachment anxiety spectrum are excessively concerned about being rejected, have a tendency to constantly seek reassurance that they are loved, and are more likely to interpret ambiguous events in a relationship as negative. Researchers discovered married partners who were more anxious produced higher levels of cortisol, a steroid hormone that is released in response to stress, and had fewer T cells - important components of the immune system's defense against infection - than did participants who were less anxiously attached." (2)
Moreover, "Research shows that infections may play a role in chronic psychiatric illnesses." (See MedwireNews, from June 16, 2011) (4)
As noted above, the Epstein Barr Virus is one latent virus that could reactivate when attachment (separation) anxiety damages the immune system. "Although normally suppressed, the virus may later reactivate, particularly in cases of immunosuppression." (See Microbiology and Immunology Online, last updated May 24, 2011) (5) "EBV is found all over the world. Most people get infected with EBV at some point in their lives. EBV spreads most commonly through bodily fluids, primarily saliva." (See the CDC, last updated on January 6, 2014) (6) EBV is also linked to various cancers and other major diseases. The CBCD therefore recommends Novirin and Gene-Eden-VIR, natural EBV remedies designed to help the immune system target the latent EBV virus.
"Because attachment/separation anxiety damages the immune system, which can lead to the reactivation of a latent virus, we recommend that such individuals take Novirin or Gene-Eden-VIR" - Greg Bennett, CBCD
Click to learn more about Novirin and EBV and Gene-Eden-VIR and EBV.
References:
(1) Fagundes CP1, Jaremka LM2, Glaser R2, Alfano CM3, Povoski SP4, Lipari AM5, Agnese DM4, Yee LD4, Carson WE 3rd6, Farrar WB4, Malarkey WB7, Chen M2, Kiecolt-Glaser JK8. Attachment anxiety is related to Epstein-Barr virus latency. Brain Behav Immun. 2014 Jun 16. pii: S0889-1591(14)00115-9.
ncbi.nlm.nih.gov/pubmed/24945717
(2) Nauert, R. Attachment Anxiety Lowers Immunity - But Can Be Overcome. Published on February 12, 2013.
psychcentral.com/news/2013/02/12/attachment-anxiety-lowers-immunity-but-can-be-overcome/51501.html
(3) Polansky, H. Itzkovitz, E. Gene-Eden-VIR Is Antiviral: Results of a Post Marketing Clinical Study. Published in September 2013.
http://www.scirp.org/journal/PaperInformation.aspx?PaperID=36101
(4) Davenport, L. EBV Infection Linked to Subclinical Psychosis Symptoms. Published June 16, 2011.
m.medwirenews.com/265/92805/Most_popular_stories/EBV_infection_linked_to_subclinical_psychosis_symptoms
(5) Microbiology and Immunology On-Line - University of South Carolina School of Medicine - Virology - Chapter Eleven - Herpes Viruses. Last updated May 24, 2011.
pathmicro.med.sc.edu/virol/herpes.htm
(6) CDC - Epstein Barr Virus and Infectious Mononucleosis - About Epstein-Barr Virus (EBV). Last updated January 6, 2014.
cdc.gov/epstein-barr/about-ebv.html