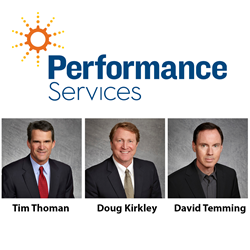 "When we made the decision to expand to Texas, we invested in the best talent we could to head up our office."
Dallas, TX (PRWEB) August 14, 2014
After nearly two decades of record growth, Performance Services is expanding to Texas. Headquartered in Indianapolis, Indiana, the engineering design and construction company specializes in energy efficient and optimal environments for education, healthcare, and government facilities. The new office is located at 3010 LBJ Freeway, #1200, Dallas, TX, 75234.
President and CEO, Tim Thoman said, "Expanding our operations to Texas is an exciting opportunity for our company. The business climate in Texas is very favorable and we believe that our value proposition for customer satisfaction and performance guarantees is an excellent match for customers with infrastructure and energy-related renovation needs."
In the past 16 years, Performance Services has implemented more than 225 energy services and renovation projects valued at more than $550 million with a proven track record of exceeding energy savings and performance guarantee commitments. A recent City of Indianapolis project included renovating 15 buildings with a comprehensive energy retrofit at the City-County building, a 50-year old, tenant building. The Greening of the City-County Building included a new heat recovery system, solar thermal and photovoltaic, and a public energy-performance dashboard. The building subsequently earned the Energy Star award and was featured as a case study by the Rocky Mountain Institute.
"When we made the decision to expand to Texas, we invested in finding the best talent we could to head up our Texas office. We knew it would be critical to our success to have a team that already lives in Texas, but more importantly, understands Texas' energy needs and environment. Doug Kirkley and David Temming both have proven track records and great reputations with customers. With Doug's focus on business development and client relations skills, and David's engineering and project management expertise, we are confident that we will be able to provide our Texas customers with dynamic solutions and exceptional resources that will achieve desired results," said Thoman.
Kirkley has more than 25 years in the energy services market and has developed more than 30 major performance contracting projects. Temming also has more than 25 years of experience in energy conservation; the last 14 were based in Texas. He has developed and managed projects throughout Texas for universities, hospitals, various corporations, school districts, and state and municipal buildings.
Performance Services is an integrated design and delivery engineering company that specializes in constructing and renovating municipal, healthcare and education facilities to deliver optimal environments through both the Guaranteed Energy Savings and Design-Build procurement methods. Innovative wind power, solar, and water management are integral to the energy services portfolio. The company has provided high performance buildings since 1998 and is a qualified provider of guaranteed energy savings projects and Energy Star certified buildings. To contact Performance Services to learn more, visit our website at performanceservices.com.