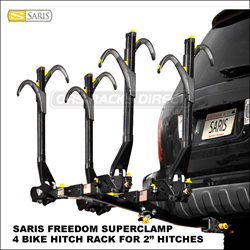 The SuperClamp improves on Saris' well-received Freedom series of hitch racks and is the first to offer adjustable wheel hooks for both the front and rear bike wheels.
Barre, VT (PRWEB) August 14, 2014
ORS Racks Direct, a leading nationwide retailer of vehicle rack transport systems for sports gear and equipment, announced today that it is partnering with Saris Racks to provide the all-new 2014 marquee line of Saris Freedom and Saris Freedom SuperClamp trailer hitch receiver compatible bicycle racks. These models, including the 4025 Saris Freedom SuperClamp two-bike and 4026 Saris Freedom SuperClamp four-bike hitch racks, as well as the 4412B Saris Freedom two-bike and 4414B Saris Freedom four-bike hitch racks, are now in stock and ready for immediate shipment to customers throughout North America.
"Saris has been an innovator in the car rack market for years, and we're pleased to see them out ahead of the pack once again with their new Freedom SuperClamp receiver hitch bike carriers. The SuperClamp improves on Saris' well-received Freedom series of hitch racks and is the first to offer adjustable wheel hooks for both the front and rear bike wheels. This improvement adds even more stability and security to bikes in transit, and because the rack attaches to the bicycle wheels, the risk of scratching the bike frame seen in previously standard designs of platform bike tray hitch racks is completely removed," remarks Catherine Case, Consumer Relations and Sales Coordinator at ORS Racks Direct. "It's also fantastic to see that Saris has not only kept their top-selling Freedom hitch racks, but also ramped up performance and ease-of-use enhancements for 2014. The Freedom 2-bike and 4-bike hitch racks now feature terrific technologies and value, and are a great choice for families looking for the convenience of a platform hitch rack model at more modest pricing. Our customers also appreciate that all of these Saris bikes racks are made in the USA."
The Saris 4026 Freedom SuperClamp hitch rack for up to 4 bikes (http://www.orsracksdirect.com/saris-freedom-superclamp-4-bike-hitch-rack.html ) is the first of its kind (along with the Saris 4025 Freedom SuperClamp model) to offer wheel hooks for both bike wheels, increasing the stability of the rack. These padded wheel hooks ratchet-adjust independently, providing versatility to accommodate nearly any style or size of bicycle. Sliding wheel trays also increase fit potential, as the trays can be fine-tuned to fit different wheelbases. The support masts lock upright but also fold flat, and the entire carrier folds up against the vehicle using a push-lever, providing easy storage on the car when the rack isn't in use. The Freedom SuperClamp 4-bike also employs a tethered bail pin to tilt away from the car or truck with bikes still loaded for quick cargo access. Locking security for both rack and bicycles is ensured with the included locking anti-rattle hitch pin and a built-in bike cable lock that stows away inside the rack when bikes aren't loaded. And the low, platform design on the Freedom SuperClamp makes mounting bikes in the rack straightforward—simply lift to the height of the hitch, load, and go. The 4026 Freedom SuperClamp fits 2" receiver hitches only.
The Saris 4025 Freedom SuperClamp hitch rack for up to 2 bikes ( http://www.orsracksdirect.com/saris-freedom-superclamp-2-bike-hitch-rack.html ) also features wheel hooks for both bike wheels, eliminating the potential for scratching the bike frame and maximizing stability in transit. Sliding wheel trays adjust with twist knobs to be positioned ideally for any bicycle wheelbase, while the padded wheel hooks also adjust individually to contour to any shape or style of bicycle. The vertical masts lock upright and also collapse flat for convenient access to the rear hatchback, door, trunk, or truck bed on the vehicle, and the platform design on this rack makes for rapid install and removal of bikes on the carrier. An anti-rattle hitch pin locks the rack onto the receiver, and an integrated cable lock secures bikes onto the rack and also retracts into the frame of the rack when not in use (locking hitch pin and bike cable lock included). The 4025 Freedom SuperClamp fits both 1-1/4" and 2" hitch receivers.
The Saris 4414B Freedom receiver hitch four-bike carrier ( http://www.orsracksdirect.com/saris-freedom-4-hitch-bike-rack.html ) is compatible with 2" trailer hitches and carries up to 4 bicycles. It features impressive fit versatility to accommodate almost any bicycle size or frame angle, due to upright masts that can be set in three positions and rubber cradles with padded cushions that move vertically along the masts to achieve the ideal angle for the bike, as well as sliding wheel trays with ratchet straps, which use twist knobs to adjust along the rack frame and fit various wheelbase sizes. By including a removable bail pin, the Freedom 4-bike rack tilts away from the vehicle with bikes loaded, offering easy access to cargo stored in the rear vehicle hatch or compartment. The rack masts also fold flat when not in use for added convenience, and a push-lever enables the rack to stow vertically against the back of the vehicle. A threaded anti-rattle hitch pin minimizes motion in transit. The Freedom 4414B can be easily converted to a locking hitch carrier: a hole in the base of the frame will accept a bike cable lock, and the hitch pin can be upgraded to a Saris locking hitch pin (available for separate sale).
The Saris 4412B Freedom two-bike trailer hitch rack ( http://www.orsracksdirect.com/saris-freedom-2-bike-hitch-rack.html ) is compatible with 1-1/4" or 2" receiver hitches and carries one or two bicycles. Because the Freedom two-bike hitch carrier comes with an upright mast that includes three settings, padded rubber cradles and straps that slide independently along the mast, and twist knob-adjust wheel trays that move along the rack frame, the angles of the mast, cradles, and trays can be fine-tuned to fit with virtually any bicycle style, size, or wheelbase. For easy access to the rear cargo area of the vehicle, the rack masts also fold flat when bikes aren't being carried, and the included anti-rattle hitch pin reduces rack movement in travel. The platform feature on the Freedom two-bike rack makes loading and unloading bicycles as easy as lifting them up a couple of feet to access the rack. A compatible locking hitch pin, sold separately, is also available from Saris Racks.
About ORS Racks Direct
ORS Racks Direct is a closely held enterprise focusing on complete sales and service of car and truck rack systems, representing the industry's most respected manufacturers, including Saris, Racks, Thule, TracRac pickup truck racks, SportRack, Whispbar and Yakima Racks, ProRack, Malone, RockyMounts, Inno, CURT trailer hitches and more. The company provides high quality transport solutions for automobile rooftop luggage bags, cargo roof box and gear basket systems, snowboard-ski racks, kayak-canoe carriers, stand-up paddleboard SUP-surfboard racks, bike racks, canoe-kayak trailers, receiver hitches, baby jogger and baby stroller child carrier transport systems and more. ORS Racks Direct markets and sells products through multi-channel outlets that include warehouse showroom, phone sales and internet.