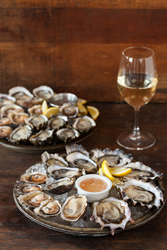 Seattle, Washington (PRWEB) August 15, 2014
Nearly every menu item features fresh shellfish straight from Taylor Shellfish Farms. Jeff Pearson, Executive Manager at Taylor Shellfish Farms stated, "The only oysters fresher are still in the bay," and is excited to bring this experience to Pioneer Square. Just steps away from Century Link and Safeco Field, the menu will also provide a great snack or meal for hungry sports fans before and during the big games. New to the menu is the popular Belgian dish moules-frites (Mussels and Fries) and a classic oyster po' boy, both served with fresh local fries. The expanded full bar will feature a wide variety of local wines and beers along with specialty cocktails. Stop by for happy hour Monday through Friday between four and six for Taylor's famous Shigoku oysters. They serve up discounted wine and cocktails to compliment oysters perfectly.
With the Taylor family's history of farming shellfish in the Puget Sound for more than one hundred years, this oyster bar compliments the historic location perfectly. The new oyster bar is located in the Washington Shoe Building in Pioneer Square at 410 Occidental Avenue. Keeping true to the historical elements, the new location features original brick walls and wood floors. The new space seats eighty with a combination of booths, community tables and bar seating. The bar acts as the focal point, where guests will sit and interact with the professional oyster shuckers and experience the unique preparation of clam and mussel steamers.
The Pioneer Square Oyster Bar joins Taylor Shellfish Farm's two current Seattle locations. Melrose Oyster Bar and Shellfish Market on Capitol Hill's success led to the concept's expansion. Visit the Melrose location for freshly shucked oysters and a glass of wine, or to pick up shellfish for your favorite dinner at home. Just three months ago, Taylor Shellfish opened in lower Queen Anne (124 Republican St.) on the perimeter of The Seattle Center. In addition to their specialty, raw oysters, clam and mussel steamers and baked oysters have been added to the menu. Stop by any of Taylor Shellfish Farms Oyster Bar locations for an exceptional oyster experience!
ABOUT TAYLOR SHELLFISH FARMS: Taylor Shellfish Farms is a fifth generation family-owned company with 550 employees farming shellfish on 10,000 acres of owned and leased tideland in the Puget Sound, Hood Canal and Willapa Bay, Washington. The company produces Manila clams, Mediterranean mussels, geoduck, and a variety of live, shucked and frozen oysters for local, national and international markets. Most recently Taylor Shellfish Farms has expanded their business with the opening of three Oyster Bars in Seattle, WA. Visit our websites at tayloroysterbars.com and taylorshellfish.com.