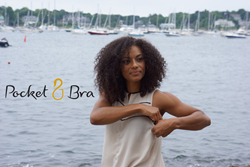 Wearable storage for women who are tired of losing their phones or leaving their bags behind in a cab or a restaurant.
Marblehead, MA (PRWEB) August 14, 2014
Marblehead, MA Lingerie and intimates apparel start-up, SherryWinks, LLC, has patented the PocketBra, a revolutionary lingerie alternative for women. The bra includes four pockets, two on the side and one in each cup, which allows easy and accessible storage for items, such as "wearable technology" and other personal valuables. Smart phones are now a necessity in everyday life as we head towards a cashless and walletless society. Today's fashion has left young women with a shortage of pockets, which tends to be very limiting, especially for active women. SherryWinks, LLC provides a safe, convenient, comfortable and fashionable alternative.
"When I go out at night, I never want to bring a purse. With the PocketBra, I can carry my essentials, including my phone, credit card, and keys and not have to worry about losing track of them. The PocketBra completely eliminates stress so I can embrace opportunities and enjoy what life has to offer, while keeping my items safe, secure and easily accessible," claims Morgan Lucas, a recent Johns Hopkins graduate and Assistant Product Manager of PocketBra.
Most fitness activity trackers fit easily inside a PocketBra. "This innovative bra with pockets solves a problem and we need to let women know that we have a solution to their problem of keeping wearable technology devices, including smart phones, safe and accessible," said Jim Peake, Chief Marketing Officer at SherryWinks, LLC.
Wearable technology has even extended into the medical field. "Today there are wireless insulin pumps worn by women that can be stored nicely into a PocketBra which we are now calling MedPockets," said Sherry Goff, CEO and Founder. SherryWinks, LLC plans to license the PocketBra patent to apparel manufacturers and technology companies so they can manufacture bras with their own design and label.
About SherryWinks, LLC and PocketBra
Based in Marblehead, Massachusetts, USA, SherryWinks, LLC was started by one woman who wanted to solve a problem for herself, keeping track of her cell phone at all times. Sherry Goff, Founder and CEO of SherryWinks, LLC has assembled a team of experienced professionals to help accelerate SherryWinks into a niche player in the apparel and technology industries. Currently, PocketBra comes in 10 sizes and 2 colors. Designs are in progress for 3 sports bras and 3 additional fashion bras.