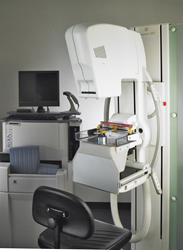 Tyngsboro, MA (PRWEB) August 15, 2014
Advanced Radiation Therapy, creators of the AccuBoost Breast Brachytherapy technology, is pleased to announce that it has entered into an agreement with the Midwestern Regional Medical Center of Zion, IL to offer the AccuBoost treatment option to their patients undergoing breast conservation therapy (BCT). Treatments utilizing the AccuBoost technique under the direction of Radiation Oncologist and Medical Director, Bernard Eden, M.D. began in June 2014. The approach is expected to be employed for both monotherapy (APBI) and the boost portion of external beam radiation. This represents the first of the Cancer Treatment Centers of America (CTCA) facilities that will offer the technology. The AccuBoost offering will be integrated into other CTCA facilities in 2014, with the next installation currently underway.
AccuBoost is a Non-Invasive Breast Brachytherapy (NIBB) approach which allows clinicians to deliver a conformal, targeted radiation field under mammography image guidance, while sparing dose to the heart, lungs, opposing breast and skin. For more information regarding Cancer Treatment Centers of America, please visit http://www.CTCA-HOPE.com. For more information on AccuBoost, and how typical treatments utilizing the AccuBoost Applicators are performed, please visit AccuBoost's recently updated website http://www.accuboost.com .