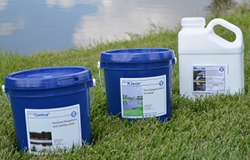 Customers can extend the beauty of their pond by killing the algae and treating the excess nutrient levels.
Rogers, MN (PRWEB) August 14, 2014
During the summer months, phosphorus levels in ponds often spike due to the use of fertilizers. High levels of phosphorus will promote excessive weed growth and algae blooms. Phosphorus is the main source of food for algae, and algae cannot survive without it. Lake Restoration recommends using PhosControl®, a granular product used for reducing phosphorus levels and clarifying the water, to help deter the growth of algae. PhosControl® bonds with the phosphorus, making it unavailable to aquatic plants and algae. The use of PhosControl® is very important because each phone of phosphorus will product 500 pounds of aquatic plant/algae growth.
Any organic material in your pond will decay over time and deplete the amount of oxygen in the water. SparKlear®, a nutrient reducer, is the biological control for ponds and small lakes. The SparKlear® pellets contain bacteria, enzymes and trace minerals to promote the health of your pond by reducing the nutrients available for weed and algae growth. If the organic matter is left untreated, this material can release harmful gasses such as CO2 while decaying. It is important to reduce the build-up and keep the nutrient levels under control.
Promoting the overall health of your pond and reducing the amount of nutrients in your pond will help keep the algae blooms away. "Customers can extend the beauty of their pond by killing the algae and treating the excess nutrient levels," says Mary Jo Furman, Retail Sales Supervisor at Lake Restoration. "We want our customers to be able to enjoy looking at their pond or water feature and not see the scum floating on the top."
As algal blooms appear, Lake Restoration recommends using a liquid algaecide that can easily be mixed with water and sprayed over the surface of the pond. You can even spot treat algae mats as needed. Lake Restoration offers a variety of sizes in their Mizzen® Algaecide. Mizzen® starts at $14.75 for 2,500 square feet of coverage and scales up to a gallon for $29.90 covering approximately a half of an acre. Gallons packs are available at a discount.
You can keep your pond or water feature looking great all year long. The team at Lake Restoration is available all year round to help you create a seasonal treatment program to sustain the beauty of health of your pond.
About Lake Restoration
Lake Restoration, located in Rogers, MN, has been restoring the beauty of lakes and ponds since 1977. Every year thousands of satisfied customers use Lake Restoration products to keep their ponds, lakes and other water features in pristine condition. Lake Restoration offers a complete line of exclusive, simple, do-it-yourself solutions to treat a variety of pond weed maladies. To learn more about controlling pond and lake weeds and products and services use to accomplish this, visit LakeRestoration.com.