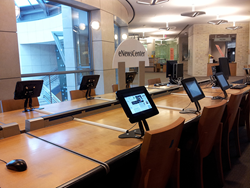 The durability and simplicity of the design makes it a easy and friendly installation.
Salt Lake City, Utah (PRWEB) August 14, 2014
San Franciscans take great pride in their grand civic institutions, including a welcoming and dedicated library system that serves many diverse neighborhoods throughout the city with its Main Library and 27 branches. The past decade has seen a renaissance of the library system, with a more diverse collection of books, audiovisual and e-resources, and both new and renovated branch libraries. With more online publications offered in easy-to-use hand-held technology formats, San Francisco Public Library's eNewsCenter is linked exclusively to SFPL magazine and newspaper digital subscriptions. The eNewsCenter features a growing virtual supplement to a library's vast print collection of periodicals and newspapers. Digital editions of newspapers through ProQuest's Library PressDisplay are available for viewing on iPad stations on the day they are published and include a broad range of titles with access to limited back issues.
The "eNewsCenter" has six iPad stations available for public use at the San Francisco Main Library's Magazines and Newspapers Center. In May 2014, four more stations were installed at the North Beach Branch Library. Within the next month, there are plans to install another four at the Chinatown Branch Library. There was a need for mounts that are high quality and are tested every day by patrons.
ArmorActive was able to solve the solution with secure and mountable options for these public use iPads in their "eNewsCenter" created by Stephen Lee in November, 2013. Utilizing the mounting option of the Gravity Flip Pro and the durability and sleek look of the Evolve iPad enclosure over ten iPads have been installed and in use to date.
Already in the Main Library and a second location patrons are now going to see more iPads in ArmorActive hardware in more branches. The durability and simplicity of the design makes it a easy and friendly installation within the library and one that people young and old will enjoy in San Francisco Public Libraries for years to come.