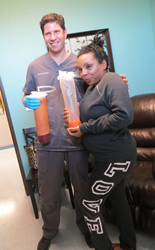 Friends and co-workers keep telling me how great I look
Las Vegas, NV (PRWEB) August 18, 2014
Liposuction can literally change a person's life with added confidence and an improved self image. Lady G, a local radio DJ in Las Vegas, knows first hand how her body transformation has changed her whole outlook on life. Starting in August, she will be discussing on her radio show, her experience with the procedure and how it has had a positive impact on her life. It's been nearly 1 year since she had liposuction of the abdomen and fat transfer to the butt, aka "Brazilian Butt Lift," at MyShape Lipo.
Before her procedure, Lady G carried the bulk of her weight in her midsection making her appear very square with no curves. Set on a 4'11" frame, the extra weight led her to dress in loose clothes regularly, in order to cover up her insecurities about her body. As a radio DJ, she outwardly presented a confident, energetic and ambitious professional, but on the inside she hated her body and was embarrassed to expose herself.
"I'm turning 30 this year and had a goal to look and feel the best that I ever have in my life, and MyShape Lipo was such a big part of that," says Lady G. "My confidence is bursting, and I feel amazing!"
Most people have insecurities about their bodies that they hide very well with loose fitting clothes. In most cases an onlooker would have no idea just how insecure that individual was or how much it affected their daily decisions. This low self image can lead to depression and can affect nearly every decision we make in our lives.
For example, insecure people will avoid going in the pool, wearing form fitted dresses, or taking part in physical activities. These are just a few of the decisions that are influenced by body insecurities. Over a long period of time these decisions will affect the confidence of this person and lead them to feel like they are not good enough to take part in this type of lifestyle.
"Friends and co-workers keep telling me how great I look," says Lady G. "I feel like I can do anything I want now, it feels good to have the confidence to walk with my head held high."
A simple 2 hour procedure is all it takes to remove the fat that causes all these insecurities. Liposuction is safe and affordable, and can change a persons perspective on life by enhancing their confidence and making them feel better about themselves.
"It's important to choose someone that makes you feel comfortable, and let's be honest, gets great results," Lady G discusses. "At MyShape Lipo, they treat you like family and you can see by looking at me, they get great results. I've never had much of a butt before, it's awesome to now be able to wear fitted clothes and love the way I look."
"We are all so happy for Lady G, she has had amazing results," says Trevor Schmidt PA-C, the liposuction specialist at MyShape Lipo. "It's been fun watching her transformation of body and mind, her confidence is visibly elevated."
About MyShape Lipo
MyShape Lipo is located in Las Vegas, NV and they specialize in liposuction and fat transfer. Their specialist and owner, Trevor Schmidt PA-C has the experience of over 15,000 liposuction procedures. Patients fly in from around the world to take advantage of their affordable rates and extensive experience in liposuction. In fact 7.5% of their patients fly in from Canada for their procedures. They offer a luxurious, family oriented liposuction experience at an affordable rate. For a complimentary Body Shape Analysis in person or over the phone, call now 702-818-5476.