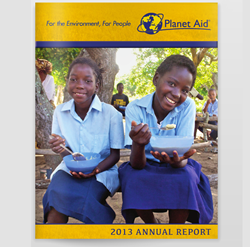 Baltimore, MD (PRWEB) August 16, 2014
Planet Aid has released its 2013 Annual Report, which summarizes the nonprofit's environmental and sustainable development work throughout the year. The company now has more than 20,000 of its signature yellow bins in 23 states to make it easier for Americans to recycle their clothes. Proceeds from collected clothing goes toward sustainable development projects in 14 countries in Africa, Asia, and the Americas that empower the poor. The Food for Knowledge project, a partnership with the United States Department of Agriculture to train new teachers and feed primary school students in rural Mozambique, was highlighted in the report, along with programs like Farmers' Clubs, Child Aid, and the HIV/AIDS prevention program: Total Control of the Epidemic.
Planet Aid President Ester Neltrup said in the report, "By placing a bag of your unwanted clothing in one of our yellow bins, you are supporting a wide range of initiatives and programs, such as providing aid to children in Brazil, helping local populations fight HIV/AIDS in South Africa, or funding microfinance in India."
Planet Aid is a nonprofit organization whose mission is to inform, mobilize and inspire individuals and communities to work together to bring about worldwide environmental and social progress. Incorporated under the laws of Massachusetts and recognized as a tax-exempt charity under IRS code 501(c)(3), Planet Aid is also registered with the U.S. Agency for International Development as a private voluntary organization (PVO). For more information on Planet Aid, visit planetaid.org.