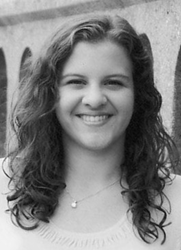 Today, social media is no longer just an option for businesses; it is now a necessity.
Chesapeake, VA (PRWEB) August 20, 2014
Courtney Smith joins The Rogers Agency as its Social Media Consultant. David Rogers, President of The Rogers Agency, hired Courtney, because she "brings a passion, a great team spirit to both the agency as well as our clients. She has a can-do attitude and fantastic insights regarding social media." As a recent graduate of Clearwater Christian College, Courtney has a Bachelor of Science Degree in Business Administration with a focus in Marketing. Courtney has a passion for Internet Marketing in particular and already has 5 years of experience developing creative social media marketing strategies that substantially increased the profitability for businesses in the Tampa Bay area as well as Hampton Roads. Courtney is very enthusiastic about her new role at the agency. She says, "To me, internet marketing isn't work, because I enjoy it so much! It has been my passion for years because as technology constantly evolves, so does online marketing; and it fascinates me."
David brought Courtney on board to handle the ever-growing demand for social media marketing. David explains, "Our clients are looking to firms such as The Rogers Agency to provide a full complement of services, and Social Media Marketing is certainly one of those key elements." He continues, "Everyone understands the importance of word-of-mouth when it comes to the success of a business; Social Media is the digital form of that and is extremely important in today's world of Advertising and Marketing. Consumers want to know about other consumers' opinions and experiences, and they want to be more engaged with the companies that they choose to do business with."
Courtney adds, "I see the many values that social media has to offer for both businesses as well as consumers. Today, social media is no longer just an option for businesses; it is now a necessity. Social media is an asset that has unlimited potential for engaging customers and ultimately increasing a business' sales and revenues all while creating positive brand awareness." Courtney is currently developing social media strategies for The Rogers Agency's clients on Facebook, Twitter, LinkedIn, YouTube, Instagram, Pinterest, Houzz and Google+.
According to David, adding Courtney to the team allows The Rogers Agency "to add more to our client services in order to increase their success in all areas of Marketing."
About The Rogers Agency
The Rogers Agency is a full-service advertising and marketing firm. We specialize in bringing more qualified customers to our clients through smart advertising campaigns. From marketing research, media planning and buying to Internet marketing, social media, creative development and video production, The Rogers Agency provides strategic advertising campaigns that lead to solid customer-client solutions.