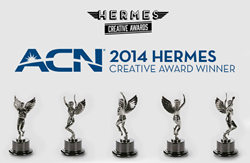 'ACN's number one goal is to provide the best opportunity and tools for its Independent Business Owners. It's not about the recognition, however it is very satisfying to be recognized on such an elite level twelve times over.'
Concord, NC (PRWEB) August 15, 2014
ACN Inc. has done it again, taking home twelve Hermes Creative Awards. The Hermes Awards recognize outstanding work in the industry while promoting the philanthropic nature of marketing and communication professionals.
Judges are industry professionals who reviewed over 5,500 entries including ACN from across the U.S. and several other countries in the 2014 competition, looking for companies whose talent exceeds a high standard of excellence and whose work serves as a benchmark for the industry.
ACN's twelve Hermes Awards included seven Gold Awards and five Platinum Awards representing Hermes' most prestigious award. The winning categories included:
Platinum:
1. ACN Contact Center as a Microsite
2. ACN's 20th Anniversary Event for Event Marketing
3. ACN's Business Opportunity in 10 Simple Steps as a Video
4. ACN's Facebook Site Overall
5. The ACN Opportunity in 10 Simple Steps for Corporate Image
Gold:
1. ACN's 20th Anniversary Event for Event Marketing
2. ACN's Corporate Profile for E-Communication
3. ACN's Corporate Website for Overall Corporate Website
4. Celebrating 20 Years of the ACN Opportunity for Web Video
5. Commitment to Integrity for Web Video
6. Twitter Engagement for Consumer Engagement
7. Your Business Assistant for Video Marketing
"ACN's number one goal is to provide the best opportunity and tools for its Independent Business Owners. It's not about the recognition, however it is very satisfying to be recognized on such an elite level twelve times over," said ACN Vice President and Co-Founder Tony Cupisz.
Hermes Creative Awards is administered and judged by the Association of Marketing and Communication Professionals. The international organization consists of several thousand marketing, communication, advertising, public relations, media production, web and free-lance professionals. The Association oversees awards and recognition programs, provides judges and sets standards for excellence.
About ACN Inc.
Founded in 1993, ACN is the world's largest direct seller of telecommunications, energy, and other essential services for residential and business customers. ACN provides the services people need and use every day including Phone Service, Wireless, Energy, Merchant Services, Television, Home Security and Automation and High Speed Internet. ACN operates in 24 countries with offices located throughout North America, Latin America, Europe, Asia and the Pacific. For information on ACN's home-based business opportunity, visit acninc.com.
About AMCP:
AMCP began in 1995 as a means to honor outstanding achievement and service to the communication profession. As part of its mission, AMCP fosters and supports the efforts of marketing and communication professionals who contribute their unique talents to public service and charitable organizations. Each year, the efforts of generous marketing and communication professionals are acknowledged through grants and special recognition. Hermes entrants are not charged entry fees for work they produced pro bono. For more information regarding the AMCP, visit acmpros.com