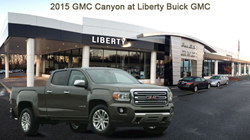 The 2015 GMC Canyon is the right truck for the right price. Our customers are happy to see that it is returning to our inventory. Scott McCorkle, Liberty Buick GMC
Charlotte NC (PRWEB) August 14, 2014
This fall, Liberty Buick GMC, located just outside of Charlotte in Matthews, NC will welcome the arrival of the all-new 2015 GMC Canyon, a smaller pick-up truck comparable to the Dodge Dakota or Ford Ranger. "I think the smaller truck will do great in Charlotte," says Scott McCorkle, owner of Liberty Buick GMC. The 2015 GMC Canyon boasts better fuel economy and garagability, meaning it will fit in a standard garage.
The 2015 GMC Canyon, along with its sibling the 2015 Chevrolet Colorado, is being reintroduced this year after a short hiatus from the market. GMC got away from the smaller truck market back in 2012, but has decided to bring them back. "Many customers love the look and utility of a truck, but also want good gas mileage. The Canyon is the best of both worlds," says McCorkle.
In the 1990s, smaller trucks, known commonly as mid-sized, were very popular. "In the 90s, it was easy to get a mid-sized truck for less money than a full-sized one," says McCorkle. But in the early 2000s, the price gap between mid-sized and full-sized trucks lessened because of an overproduction of full-sized trucks according to Automotive News. Many customers opted to get a full-sized because the price wasn't that much more and they offered more in work capacity.
Now, analysis shows a real market for mid-sized trucks. Automotive News reports that the net prices on full-sized trucks were 43 percent higher on average than on mid-sized trucks during 2011 through the first half of 2014. Many drivers are not able, or willing, to make that price jump. "Re-opening the mid-sized market will allow GM to reach drivers that may want a truck for their daily driving instead of needing one for their job," says McCorkle. The 2015 GMC Canyon starts at $21,880 which is considerably less than the full-sized GMC Sierra 1500 starting at $32,660.
"GM is known for producing quality trucks, so I think we will be very competitive against other mid-sized trucks," says McCorkle.
According to the GMC website, the 2015 GMC Canyon seeks to refine the interior of the small pickup. Premium materials along with a soft-touch instrument panel and noise-reducing technology make for an extremely comfortable ride. The 2015 GMC Canyon comes available with Bluetooth connectivity, IntelliLink technology, and the new OnStar 4G LTE built-in WiFi hotspot. As with other new GMC vehicles, the driver gets a 6-month trial subscription of OnStar which offers Automatic Crash Response, Roadside Assistance, Emergency Services, and Remote Door Unlock. Other technologies include Forward Collision Alert and Lane Departure Warning.
"The look of the new Canyon is very cool, but it's these interior features really make it stand out among the run-of-the-mill mid-sized pickup," says McCorkle.
Liberty Buick GMC expects to have the 2015 GMC Canyon in their showroom this fall.
Scott McCorkle and his team have been serving the Charlotte area for over 25 years. Liberty Buick GMC is located at 9028 East Independence Blvd and serves Charlotte, Matthews, Weddington, Monroe, and Union County. Visit their website at http://www.clickliberty.com or give them a call at 704-321-4366 for more information.
Kelly Bladl,
Google Author & CCP Web Design Writer