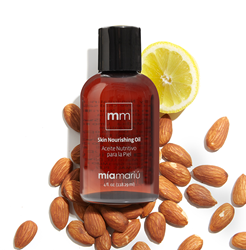 Mia Mariu's Skin Nourishing Oil is definitely absorbed quickly by your skin. It spreads easily, but leaves no oily residue in its wake. It makes my skin feel incredibly soft and moisturized from the inside out. - Jessica Peeling
Dallas, TX (PRWEB) August 15, 2014
The direct sales leader in botanical and mineral products, Mia Mariu, announced today the launch of Skin Nourishing Oil with nutrient replenishing oils like Sweet Almond, Avocado, Wheat Germ, Safflower Seed and Soybean and invigorating Lemon, Orange and Grapefruit essential oils for firm, smooth, luminous skin. With rich botanical extracts like Chamomile, Cucumber & Lavender which provide anti-inflammatory, moisturizing and healing support.
"This revolutionary product can be used by the whole family to nourish and moisture your skin, your hair, and even your nails. We took advantage of nature's natural elements to create a nourishing formula with essential oils that help nourish, protect, heal and soothe your skin," said Jeannie Price, CEO of Mia Mariu.
This natural oil provides deep penetrating soothing moisture rejuvenating skin without blocking pores. It also helps reverse and prevent signs of aging by promoting collagen production which helps keep the skin young and supple looking. Alcohol free, Sulfate free, Paraben free. It can be used in the face, body and hair, and it is suitable for all skin types and ages.
Price: $25.00
Size: 4fl. oz.
About Mia Mariu
Mia Mariu is a health and beauty company that promotes beauty inside and out. Mia Mariu botanical skin care, mineral cosmetics, natural health supplements and fine fragrances are available exclusively through Independent Advisers and online. The Mia business opportunity offers an innovative approach to social selling using the power of e-commerce, social networking and personal service. Women can easily balance their career and personal lives without sacrificing their time with family and friends.
Mia Mariu is based in Dallas, Texas. For more information, please visit http://www.miamariu.com.
Contacts
Alessandra Ortiz / Mia Mariu PR & Assistant Marketing Manager
+1 214.462.7870 / alessandra.ortiz(at)miamariu(dot)com