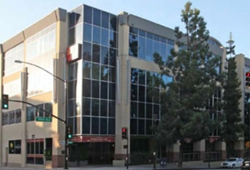 Burlinagme, CA (PRWEB) August 18, 2014
Barry Slatt Mortgage President Daniel Friedeberg recently teamed up with Analyst/Economist Kelvin Lam to secure $8,800,000 in financing on a class A office building totaling 76,698 sq. ft. in Burbank, CA. The loan was placed with Stancorp Mortgage Investors, a subsidiary of of the Standard Insurance Company. Stancorp, one of Slatt's correspondent lenders, offered a 7-year fixed rate loan with a 30-year ammortization. The borrower was a foreign investment group based in China, who chose Barry Slatt because of their depth of relationships with lenders, experience with international investors, and fluency in multiple languages.
About Barry Slatt Mortgage: Barry Slatt Mortgage is a long-standing and respected institution with more than four decades of experience in commercial mortgage banking. Slatt has correspondent relationships with several of the most prestigious lenders in the country, providing custom-tailored solutions for borrowers' needs.