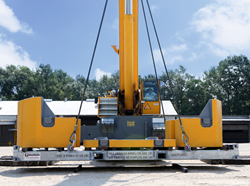 "We were determined to provide a safer and more efficient way for [our customers] to execute heavy lifts in the offshore environment," said Garett Gauthier, VP of Business Development.
Lafayette, LA (PRWEB) August 15, 2014
In response to the need for safer lifting of heavy equipment in the offshore environment, Gauthiers' has introduced a new Offshore Transporter, the GAUU TP248. The company, a Lafayette-based supplier of oil and gas industry containers and support equipment, designed the new DNV 2-7.3 certified product to deliver efficient dynamic lifts of critical equipment like BOP stacks, top drives, large spools and oversized air conditioner units for offshore rigs.
One of the key advantages of the Offshore Transporter is its ability to be pre-rigged for a single-point lift, thus reducing the number of accidents experienced by riggers on offshore or platform supply vessels. Rather than using multiple rigging slings and straps or building a custom frame for each lift, the Offshore Transporter is certified for use with any equipment up to 110,000 MGW.
In order to ensure that this new product would meet or exceed all industry safety standards, Gauthiers' required extensive proof load testing and magnetic particle inspection. All testing was completed in accordance with the industry's stringent heavy-lift standard, "DNV 2-7.3 Standard for Certification of Offshore Portable Units-May 2011."
"We knew that our customers had limited options for safely sending out the heaviest equipment," said Garett Gauthier, Vice President of Business Development. "We were determined to provide a safer and more efficient way for them to execute heavy lifts in the offshore environment."
The Offshore Transporter is available for rental from Gauthiers' two locations in Houma and Lafayette, serving customers from Houston, Texas to Port Fourchon, La.
Gauthiers' offers sale and rental of offshore containers, baskets and support equipment for domestic and international oil and gas industry customers. The company specializes in DNV 2.7-1/EN12079/ IMO MSC/CIR. 860 certification standards. Gauthiers' is an active participant on the technical committees of ISO 10855: Offshore Container-Design, Manufacture and Marking and API 2CCU: Offshore Cargo Container Design, Manufacturing and Inspection. The company serves clients locally and globally with locations in Lafayette and Houma, La. For more information, visit http://www.gauthiersrental.com.