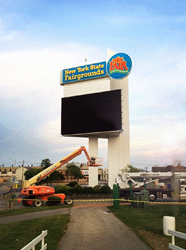 Syracuse, NY (PRWEB) August 14, 2014
New York State Fairgrounds has a brand new Formetco LED digital screen. Fair officials say the sign is one of many changes at the annual event, including road upgrades, upgrades to the main parking lot and upgrades to the main parking lot. At 22feet tall by 38 feet wide, this enormous screen will provide an impressive new view to the nearly 70,000 vehicles that pass by daily. The new state-of-the-art screen replaces the previous sign constructed back in 1991. The original company that managed installation of the first sign back then, JLR Signs, was contracted to ensure the same quality and safety standards were addressed. "A real treat to work in our home town," says Jack Ribble of JLR. "We often are working all over with large and small outdoor advertising companies. It is great to be remembered for our work performed over 20 years ago."
With the Fair opening in just a few weeks it was critical a project this large was done quickly and without any complications. Formetco was selected by JLR and NYS Fairgrounds as the LED screen provider, for just those reasons. Formetco is recognized as being able to swiftly deliver on projects such as the NYS Screen, with a turnaround that is hard to beat.
With over 770,000 LEDs working in unison to propel impressive images onto a screen this size it would be paramount to opt for the most reliable source available.
The sign was ordered with only a two-week lead time. Upon delivery the installation took less than a single day to complete. No small task, and one which is rarely achieved of in the LED billboard sign arena. Everyone is looking forward to power getting connected to the screen and deliver some more dynamic, informative content to the morning commuters.