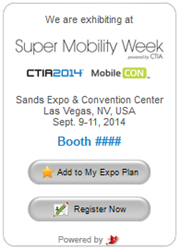 Columbia, MD (PRWEB) August 15, 2014
The ChirpE eBooth Promotion Widget, powered by a2z, Inc., offers exhibitors of Super Mobility Week – powered by CTIA an opportunity to increase their ROI from the upcoming event. With 35,000 attendees expected from around the world, the ChirpE widget allows exhibitors to compile a "lead list" of visitors and prospects before arriving at Super Mobility Week, September 9, 10 & 11, 2014 at the Sands Expo & Convention Center in Las Vegas.
The ChirpE eBooth Promotion Widget is a powerful online tool that enables exhibitors to promote their event participation at Super Mobility Week on their own websites. This easy-to-use tool offers visitors to the exhibitors' websites access to the exhibitor's eBooth profile, the event website, and the event registration page – all with a single click on the widget. Exhibitors can then compile a pre-show lead list of all the known visitors and engage prospects.
"By partnering with a2z to offer exhibitors the ChirpE eBooth Promotion Widget, they have a better way to measure their ROI and ensure they are meeting with the right people before they even arrive at Super Mobility Week," said Robert Mesirow, CTIA Vice President and Show Director.
"It's wonderful to see the ChirpE eBooth Promotion Widget be put to work for such a large and diverse event like Super Mobility Week," said Rajiv Jain, CEO and President of a2z. "This sort of innovation engages new and current audiences, and gives exhibitors a tangible way to measure ROI."
With thousands of retailers, manufacturers and wireless companies represented on the Super Mobility Week show floor, attendees will experience the best of the new wireless ecosystem. From home and health to business and banking, exhibitors are sorted into different zones and pavilions, including the Connected Life Zone, a huge Retail Zone and International Pavilions.
About a2z
a2z, Inc. provides powerful web-based event management tools that grow your show by increasing and accelerating booth sales, helping boost revenue, and enhancing engagement and value for everyone. a2z, Inc. powers more than 850 leading events every year. Our clients benefit from increased connectivity with their audience via an improved website for their attendees and exhibitors and both web-based and native mobile app solutions. To fulfill our goal of developing quality solutions that help save money and meet your needs, a2z offers three platforms as one integrated solution: Expo & Conference Management, Networking & Lead Management, and ChirpE Mobile — which includes our web-based and native mobile apps for smart phone and tablet devices.
About CTIA Shows
CTIA Shows bring together all industries advanced by wireless technology for intense business, learning and networking. Super Mobility Week (http://www.supermobilityweek.com) takes place Sept. 9, 10 and 11, 2014 at the Sands Expo and Convention Center in Las Vegas.
Twitter: @ctiashows | Facebook: http://www.ctiashows.com/facebook | LinkedIn: http://www.ctiashows.com/linkedin
About CTIA
CTIA-The Wireless Association® (http://www.ctia.org) is an international organization representing the wireless communications industry. Membership in the association includes wireless carriers and their suppliers, as well as providers and manufacturers of wireless data services and products. CTIA advocates on behalf of its members at all levels of government. The association also coordinates the industry's voluntary best practices and initiatives, and sponsors the industry's leading wireless tradeshow. CTIA was founded in 1984 and is based in Washington, D.C.