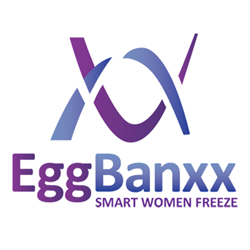 New York, New York (PRWEB) August 13, 2014
A group of over 100 Manhattanites sipped their "Banxxtinis" while listening to Leahjane Lavin, Sales & Marketing Manager of EggBanxx, share her recent experiences with the egg freezing process. Whether it was giving herself injections while traveling or the satisfaction of receiving her fertility report, Ms. Lavin spoke as one girlfriend to another.
"Ladies – I can't begin to tell you how easy it was and how relieved I am to not have to worry about my biological clock anymore. We hope to empower you tonight and give you the knowledge and resources to make this a viable option for all of you."
Guests also heard from three highly esteemed Reproductive Endocrinologists: Dr. Jaime Knopman of RMA of New York, Dr. Andrew Loucopoulos of Advanced Services of Reproductive Medicine and Dr. Serena Chen of IRMS Reproductive Medicine at Saint Barnabas. In the highly attentive and packed room, each doctor carefully walked through what the process entails, what exactly vitrification is and how many eggs are enough to equal one live birth. As Dr. Loucopoulos said, "Eggs - The younger the better and the more the merrier!"
After hearing the national average of what egg freezing can cost, estimated by many to be $13,000, attendees were thrilled to hear about what EggBanxx has to offer: the ability to pay up to 15% less by using a fertility clinic in the EggBanxx network and low-interest financing options for those who qualify. One guest put it best when she remarked, "If this can make freezing my eggs affordable, sign me up!".
Once the presentation was done, guests were able to speak one-on-one with a doctor and book their initial consultations on the spot through EggBanxx's Patient Care Advocate team. By the end of the evening, cycle buddies were made, appointments were booked and swag bags were handed out. Women left feeling educated and empowered to make this very wise investment while doctors left knowing that they had more egg freezing patients coming to see them soon!
Due to the overwhelming demand and popularity of last night's event, EggBanxx has added another Manhattan event to its schedule for September. Stay tuned for details.
To RSVP for EggBanxx New York visit : http://bit.ly/EB-SeptNYC
To Learn more about EggBanxx call: 855-552-2699
About FertilityAuthority
EggBanxx.com, owned by FertilityAuthority, is part of a family of websites providing comprehensive, interactive resources and referrals for women and men seeking quality fertility information, as well as tools to simplify the search for trusted fertility doctors or fertility clinics. With more than one million monthly visits, the websites FertilityAuthority.com, FertileThoughts.com, IVFAdvantage.com, EggFreezingCosts.com, EggBanxx.com, GenderSelectionAuthority.com— along with a staff of patient care coordinators — assist in making the important connection between patients and the physicians who can assist them in their family-building efforts.