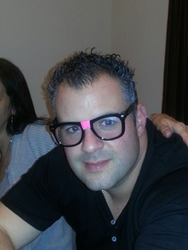 Long Island, New York (PRWEB) August 14, 2014
Anthony Savino the premier provider of web design, SEO, graphic design and printing services to the Long Island community proudly announces the launch of their latest website design for Sound Dimensions Plus.
With the recent delivery of a new logo design created by Savino, Sound Dimensions Plus made the decision to move forward with the next step of their branding strategy in having a new website built. In searching for a company to capture the essence of their company for their web strategy, they choose to continue working with Anthony Savino who recently designed their new logo which they are extremely happy with. The logo was featured in a Newsday article speaking about company branding and marketing.
Understanding that a well-designed and implemented branding strategy is critical to the overall success of any marketing plan, consistency is a key factor to ensuring that all aspects of the branding strategy work in harmony. Likewise, working with service providers who understand your vision and can create the necessary components to bring that vision to life is critical. In Anthony Savino, the owners of Sound Dimensions Plus found a design company that not only understood their vision and were able to translate it initially into the logo design as well as build a web presence that truly communicates not only the expertise of the Sound Dimensions Plus team but also their pride in creating entertainment systems that are second to none.
For Anthony Savino & design team, being asked to build the website for Sound Dimensions Plus is an immense source of pride. "Getting the opportunity to work with Lou & Paul again was an honor, not only are they great people to work for, they are true pioneers in their industry," said Savino. For the staff it is gratifying to know their success in meeting the challenge of creating the logo was what enabled them to continue the journey in helping their client create the web presence that would be, for many customers, their introduction to Sound Dimensions Plus and the work they do. To be able to contribute to the ongoing success of a valued client is a motivating factor for the whole team and is what drives them to greater success.
Anthony Savino leads a full-service creative agency and marketing Company that caterers to businesses located in Suffolk County & Nassau County, New York. Specializing in the design, development, and maintenance of websites, our talented, creative, and detailed-oriented staff of designers can take any idea and transform it into a fully functioning website.
With expertise in revitalizing existing websites making them look fresh and unique, we can provide our clients with new opportunities to generate new business. Anthony Savino encompasses a wide array of additional services including logo design, mobile website design, content creation and any other design requests our client may have. Additionally, they offer printing services for a wide variety of purposes, screen printing for promotional apparel as well as promotional products for any variety of uses. To round out the marketing services offered to their clients, we also provide direct mail marketing and video marketing services. Savino showcased the website for Sound Dimensions on his website http://anthonysavino.com.