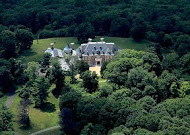 The luxury real estate market in the Somerset Hills and surrounding environs is alive and well in 2014
Far Hills, New Jersey (PRWEB) August 18, 2014
Turpin Real Estate is pleased to announce the sale of Upton Pyne in Bernardsville, New Jersey. The $12.88 million sale price places Upton Pyne among the top three most expensive properties ever sold in the region, following the sales of Natirar in Peapack-Gladstone (2004) and Bedminster Township's Dunwalke in 2001.
The transaction, which closed August 8th, is the first residential sale to exceed $10 million since 2005 in all of Somerset, Morris and Hunterdon counties in New Jersey, according to the Garden State Multiple Listing Service.
"The sale of Upton Pyne illustrates, once again, that this distinctive corner of New Jersey is among the most sought after in the region," said John D. Turpin, president of Turpin Real Estate. "Furthermore, it indicates that the luxury real estate market in the Somerset Hills and surrounding environs is alive and well in 2014."
Turpin Real Estate represented both the buyer and seller in the Upton Pyne transaction. "We are privileged to have been entrusted with this special listing and proud to have marketed the property successfully. It is a thrill to see Upton Pyne enter a new era of ownership." Turpin added.
Turpin Real Estate has represented both buyer and seller in three of the region's four most expensive transactions, excepting only the sale of Natirar to Somerset County, which was sold without broker involvement. Additionally, Turpin has brokered more area sales over $4 million than any other firm.
"I attribute our company's unparalleled track record in the area's luxury real estate market to the core values we hold dear: integrity, professionalism, and client-focused service. I am especially proud of the fact that these values distinguish our associates in every transaction we handle, regardless of price," noted John Turpin.
Upton Pyne is a 16,000 square foot masterpiece built in 2004 upon the site of the former estate of the same name, built for Percy Rivington Pyne in 1900. The 30-room stone manor sits high atop the Bernardsville Mountain with distant views over the Somerset Hills countryside. The sprawling compound includes three additional cottages and the original Upton Pyne stable complex.
###
About Turpin Real Estate
Founded in 1960, Turpin Real Estate is Northern New Jersey's premiere independent real estate firm, with five offices serving Somerset, Morris, Hunterdon, Essex and Union counties. Turpin sales associates are dedicated to delivering the highest quality service to their clients with uncompromising integrity. Strategic network alliances, including exclusive affiliation with Christies International Real Estate, and a commitment to digital marketing excellence provide unsurpassed coverage for our listings regionally, nationally and around the world. Global reach, unparalleled local expertise and the flexibility afforded by independent ownership are hallmarks of our organization.
Contact:
John D. Turpin
908-234-9100
jdturpin(at)turpinrealtors(dot)com
PO Box 100 Far Hills, NJ 07931
http://www.turpinrealtors.com