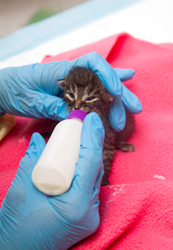 There's no more worthy investment than putting money toward helping our partners save the lives of animals in their communities
Kanab, Utah (PRWEB) August 13, 2014
Best Friends doesn't just talk about saving lives, the Utah-based organization puts their money where their snout is.
In fiscal year 2014, Best Friends (http://www.bestfriends.org) has given its No More Homeless Pets Network Partners nearly $503,000 in grants, to support 3,190 adoptions, 9,416 spay/neuter surgeries and a kitten nursery program to save the lives of 1,200 newborn kittens.
The grants, averaging more than $9,000 each, will support the specific efforts of 55 Network Partner groups across the country for projects such as providing spay/neuter surgeries for the pets of low income pet owners, increasing cat and dog adoptions by offering reduced adoption fees, and saving the lives of orphaned, newborn kittens who need to be bottle fed.
"Best Friends is proud to work with more than a thousand shelters and rescue groups across the country who believe as we do, that every animal is an individual, a life worth saving," said Gregory Castle, chief executive officer for Best Friends Animal Society. "There's no more worthy investment than putting money toward helping our partners save the lives of animals in their communities."
At a cost of just $36.45 per animal, Best Friends also leverages other available resources and works with groups to maximize the impact of these investments not only to save lives, but also to save taxpayer dollars. Money spent on adoption and spay/neuter gets animals out of shelters and into homes, and reduces the number of homeless pets that end up in shelters in the first place.
Each year Best Friends grants millions of dollars to a variety of programs to support the good work of other shelters and rescue groups who also believe it's possible to Save Them All. This particular grant program provides specific project grants to members of the Best Friends No More Homeless Pets Network, who are working to save animal lives by providing an unfunded or underfunded need in the areas they serve.
About Best Friends Animal Society®
Best Friends Animal Society is a national animal welfare organization focused on ending the killing of dogs and cats in America's shelters. An authority and leader in the no-kill movement, Best Friends runs the nation's largest no-kill sanctuary for companion animals, as well as lifesaving programs in partnership with rescue groups and shelters across the country. Since its founding in 1984, Best Friends has helped reduce the number of animals killed in shelters nationwide from 17 million per year to about 4 million. Best Friends has the knowledge, technical expertise and on-the-ground network to end the killing and Save Them All®.
To like Best Friends Animal Society on Facebook go to: http://www.facebook.com/bestfriendsanimalsociety
Follow Best Friends on Twitter: http://twitter.com/bestfriends
About No More Homeless Pets® Network
The No More Homeless Pets® Network is a program of Best Friends Animal Society focused on building relationships and working with other rescue organizations and municipal shelters all across the country to end the killing of dogs and cats in our nation's shelters. The Network is comprised of 501(c)(3) public charity animal welfare groups and shelters committed to saving the lives of homeless pets through active adoption and/or spay/neuter programs. Network partners are provided fundraising opportunities and adoption events, consultations with Best Friends staff, assistance with networking animals, and the opportunity to apply to Lifesaving Grants. Participation in the program is free of cost.