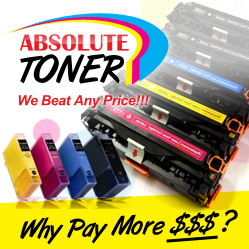 A yield of 2,600 pages at 5% coverage. That is compared to normal toner cartridges that provide an average of 1,500 pages.
Toronto, Ontario (PRWEB) August 14, 2014
Absolute toner has introduced the new compatible for Brother TN420 Black Laser Toner Cartridge High Yield. This toner cartridge will work within the following printer models: Brother DCP-7060D, Brother DCP-7065DN, Brother HL-2130, Brother HL-2220, Brother HL-2230, Brother HL-2240, Brother HL-2270, Brother HL-2270DW, Brother HL-2280DW, Brother MFC-7240, Brother MFC-7360, Brother MFC-7360N, Brother MFC-7460DN, Brother MFC-7860, Brother MFC-7860DW, and Brother Intellifax 2840.
They can be found at http://www.absolutetoner.com/brother-toner-cartridges/1337-brother-tn420-toner-cartridges-compatible.html
Toner cartridges contain toner powder which makes it possible for the laser printers to print the images on the page. High Yield toner cartridges are designed to hold much more of the toner powder and allow the user to print more pages from a single cartridge. This can reduce the cost of printing as well as reduce the frequency of re-ordering.
There are many different types of toner cartridges that can be chosen. Unfortunately it can easily be misunderstood. The toner cartridges that are manufactured by the manufacturer are called Original equipment Manufacturer (OEM) or genuine cartridges. These cartridges are usually the most expensive. Re-manufactured cartridges take old OEM cartridges that have been used and replace parts and refill the cartridge. These can be less expensive than the originals, but they may not be as reliable.
Compatible toner cartridges are brand new cartridges that are not made by the original manufacturer. Using similar parts to create compatible cartridges allows the compatible product to work in the same way as the OEM, without the high price tag.
When it comes to choosing cartridges for a laser printer, high yield cartridges make a lot of sense. Offering a higher yield of 2,600 pages at 5% coverage. That is compared to standard toner cartridges which provide 1,500 pages at 5% coverage. The 5% coverage refers to the amount of the page that has toner on it. Printing pages with more coverage will reduce the page yield.
The biggest fear that people have with using compatible cartridges is that they may cause damage to their printer. Compatible cartridges are often designed to work with many different printers from different manufacturers. This may mean they are not designed to work exactly the same way as the OEM. Absolute toner has addresses this problem by producing compatible cartridges that are designed for specific brands of laser printers. This is done to insure that they will work as promised and that they will not cause any damage to the printer or printer heads.
Absolute toner is sure that the cartridges which are being sold are going to work. Offered at much lower prices than the OEM cartridges. When this is combined with the reward program offered by Absolute Toner, these compatible cartridges offer significant savings for their users. Backed by a lifetime guarantee as well and free shipping to anywhere in Canada with qualifying offers.
Absolute toner is an Ontario based company that has been filling the toner and cartridge needs of businesses and individual for many years. Standing behind what they sell with the experience to back up what the offer. More information can be found at http://www.absolutetoner.com for those who are interested.