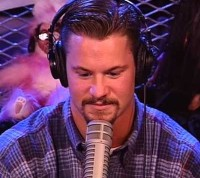 "By interviewing such special and inspiring woman each day, it feels almost selfish to be able to bring people up with such positivity"
New York, NY (PRWEB) August 15, 2014
As a well-known star in the entertainment industry, KC Armstrong continues to strive to the top. KC got his big break from working with Howard Stern as a cast member and producer for the Howard Stern Show for over a decade. Not only is he a public figure making appearances on E! Entertainment and CBS, but he is also a community member in comedy clubs working with stars such as Damon Waynes and Dane Cooke. As an actor in big screen films such as "Secret War" and "Grace of the Storm", KC took his accomplished skills in production, as well as his entertainment talent, and produced the 3rd most watched internet show, "KCTV". Growing up KC was always greatly influenced by his mother, stating "my mother has been and always will be my best friend and growing up. I was amazed by the sacrifices she made that inspired me to respect and admire woman". He has taken his experience and expertise in business and the love of his mother to a higher level by working with the Women's Radio Network, WRNW1 to inspire and influence women.
Becoming a member of the WRNW1 family, KC has greatly been encouraged to assist women build their online presence through professional interviews and online seminars pertaining to their everyday life, inspiring listeners all over the world. As a global networking community, WRNW1 is an online platform, which assists women professionals and entrepreneurs to navigate their pathways to success.
As someone who persevered through many obstacles to be the successful person he is today, KC encourages women to do the same. WRNW1 commends KC Armstrong for the dedication and integrity he has for the network, recognizing the encouragement and inspiration he has to keep the stamina of WRNW1 positive, reassuring and limitless; awarding him "Top Host of WRNW1". KC has been rewarded for his outstanding achievements as a supportive host, with amazing credibility for requests to be interviewed with him on WRNW1.
KC works side by side with WRNW1's spokeswoman, Robyn LaJoya Charles, the daughter or Ray Charles as well as Lisa Singer, who has previously worked with E! Entertainment, TNT, and Court TV's "Hollywood Heat", where she had the pleasure of interviewing famous stars on the famous red carpet; and Dr. Joyce Buckner, known for her many guest appearances on the Oprah Winfrey Show for her expertise in love.
Be sure to visit http://www.wrnw1.com, where additional information on the WRNW1 can be found. For all media inquiries or for interviews with KC Armstrong, please contact Richard Lewis at (888) 460-2226 or email at press(at)wrnw1(dot)com.