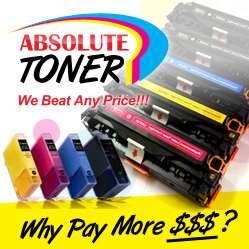 Considered to be a high yield cartridge. That means it will last longer and print more images than a standard cartridge. That's 600 pages compared to 300 pages
Toronto, Ontario (PRWEB) August 26, 2014
Absolute Toner is releasing the Brother LC-71 Ink cartridges High Yield for sale to individuals and business. This cartridge is compatible with the printer models Brother MFC-J280W, Brother MFC-J425W, Brother MFC-J430W, Brother MFC-J435W, Brother MFC-J5910DW, Brother MFC-J625W, Brother MFC-J6510DW, Brother MFC-J6710DW, Brother MFC-J6910DW, Brother MFC-J825DW, Brother MFC-J835DW, Brother DCP-J525W, Brother DCP-J725DW, and Brother DCP-J925DW.
To find out about this ink cartridge check out: http://www.absolutetoner.com/brother-ink-cartridges/1352-brother-lc71-ink-cartridges-compatible-combo.html
Absolute Toner is based in Ontario. They offer the ink cartridges that people need for their business or for their home. There are some people that think that you have to buy the ink cartridges that are made by the manufacturer of the printer. They do not realize that there are other choices.
The first choice for ink cartridges is the original equipment manufacturer (OEM) cartridges. These are the cartridges that are made for the specific printer by the manufacturer. They will work well, but they are also very costly.
There will be some people who opt to save money by buying remanufactured ink cartridges. These cartridges take advantage of OEM cartridges that are empty and that no longer work. The remanufactured cartridges are refilled and refurbished. They do cost less, but they do not always work as well. The cartridges can break or the ink may not last as long as expected.
The lowest priced option is the generic or compatible ink cartridges. These are made by someone other than the original manufacturer. Often times, compatible ink cartridges are made for several brands of printers and they may or may not work as they are supposed to.
Absolute Toner is offering a better compatible ink cartridge. It is designed to work only with the Brother printers. This helps avoid the problems that other compatible cartridges have. Absolute Toner stands behind their cartridges with a money back guarantee. They are positive that they will not only work for the businesses and individuals that choose them, they believe they will exceed the OEM cartridges many times.
According to Absolute Toner, the yield on this ink cartridge is 600 pages at 5% coverage. It is considered to be a high yield cartridge. That means it will last longer and print more images than a standard cartridge. That's 600 pages compared to 300 pages that the users of the OEM brother LC71 ink cartridge can expect to get.
Even if the cartridges were the same price, the high yield of the new cartridge from Absolute Toner will save money. Since this cartridge does not come from the manufacturer, it is not the same price. The cartridge is expected to sell for around $12. That is half the price of the OEM cartridge. That means that the user is saving even more money.
The compatible cartridge provides many benefits. It provides high quality print. It will print more pages and it costs less. With the combination of the lifetime guarantee and the free shipping on qualifying offers, this is a great deal that is being introduced. More information about how these cartridges work can be found at http://www.absolutetoner.com.