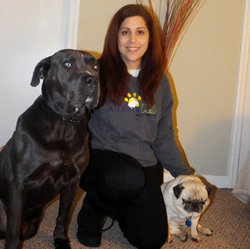 Wantagh, NY (PRWEB) August 14, 2014
Sublime K9 Dog Training, a Long Islanddog training and obedience school and a recent winner of the Best of LI 2014 award for dog training services, has continued their celebration with their latest crop of educated canines. The commitment to service and helping families and their pets live more fulfilling lives is one of the hallmarks that earned them the recognition from the Long Island community.
Ever since opening the doors of Sublime K9 in 2012, owner and founder Jessica Freedman has strived to provide Long Island families and their four-legged family members with the highest quality of training and commitment possible. With 10 years of experience as a professional dog trainer as well as the owner of two dogs herself, Jessica has understood the necessity for acclimating a new puppy with their family as well as helping the family understand the needs of their smallest member. Over the last two years she has worked with families throughout Nassau and Suffolk, earning her a level of respect and praise that has placed her in the upper echelons of her profession on Long Island. Her hard work and dedication paid off when she was nominated for and eventually won the Best of 2014 award for dog trainers. The Best of LI awards are handed out annually after nominations are received from people across Long Island in various categories.
"Being among the finalists after a short time in business was an amazing honor but to win was more than I could have imagined," said Freedman. "I truly love what I do and I am fortunate to work one-on-one with dogs and their owners so I get to see the look of satisfaction with all that is learned." Freedman provides all of her training onsite at the homes of the families and their pets. For Freedman this is preferable to the more common practice of training multiple dogs simultaneously in an environment other than the one they will live in. This is proven with each successful completion of training for each family and dog. Recent graduates can be seen on the Sublime K9's Facebook page where each four-legged graduate has their own moment in the sun.
For those interested in learning more about Sublime K9, their services and their amazing success, they can visit the website at http://www.dogtrainerslongisland.net or they can set up a consultation or appointment by calling 516.804.8929 for Nassau County resident or 631.241.6482 for Suffolk County residents.