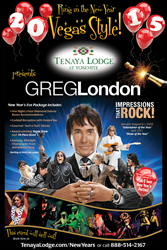 This event will be the first of its kind for Tenaya and we cannot wait to wow our guests with a truly glamorous experience. -- Paul Ratchford, General Manager
Fish Camp, CA (PRWEB) August 14, 2014
Although the Yosemite-Sierra region is renowned for its rustic beauty and awe-inspiring scenery, this holiday season, Tenaya Lodge at Yosemite is putting it on the map for hosting a Vegas-style New Year's Eve bash like no other. To start the year off right, guests will have Lady Luck on their side when they place their bets on the lodge's New Year's Eve Package, offering an all-access pass to this high-class affair.
At just $449 per couple, the package lets guests join in on the New Year's Eve fun from start to finish. The night will begin with a gourmet plated "surf-n-turf" dinner for two, featuring lobster and filet mignon, as well as signature sippers at a two-hour hosted bar. Attendees will then take in the musical stylings of everyone from Elvis Presley to Ozzy Osbourne, all courtesy of award-winning entertainer and expert impressionist Greg London and his "Impressions That ROCK!" show. A renowned performer, London is the star of this headlining show in Las Vegas and has been recognized with awards including a two-time Nevada Magazine "Entertainer of the Year" honor.
"I'm so looking forward to ringing in 2015 at the Tenaya Lodge New Year's Eve extravaganza," says London. "The evening will feature impressions and music from legends like Johnny Cash, Rod Stewart, Robin Thicke and many more. It will all be part of a night you'll never forget!"
"I'm fortunate enough to have a long history with Greg London and his talents, and we're thrilled to have him as part of our New Year's Eve festivities," adds Tenaya's General Manager, Paul Ratchford. "This event will be the first of its kind for Tenaya and we cannot wait to wow our guests with a truly glamorous experience. Having a performer as unique as Greg will allow us to create a memorable New Year's Eve event for out-of-towners and locals alike."
Following Greg's show, revelers will have plenty of time to dance the night away with live music from the 14-piece band, as well as enjoy a midnight champagne toast, party favors and festive balloon drop. When the night draws to a close, guests will take the elevator home to spend the first night of 2015 in one of Tenaya's luxurious Deluxe guest rooms.
And, although there's nothing like the full New Year's Eve experience, Tenaya is offering two additional non-lodging options for the night. Guests can book the full New Year's Eve Bash without lodging for only $150 inclusive per person. For those who want to skip the reception and dinner, guests can join in on just the show and dancing, 9pm until 1am, for $80 inclusive per person.
Children 13 and older are welcome at the main party, but little ones will have a fun evening of their own in store at two kids-only celebrations. The lodge will host supervised parties for children 4-8 and children 9-12, with a special dinner and age-appropriate entertainment included at $60 per child. Onsite childcare is also available. To add additional adults or older children to your package after booking, arrange a kids' New Year's Eve experience or discuss options for children under 4, guests can contact the Tenaya concierge at 559-692-8974.
To learn more about New Year's Eve and other holiday opportunities and packages at Tenaya, visit TenayaLodge.com/NewYears and TenayaLodge.com/HolidayEvents.
About Tenaya Lodge at Yosemite
Tenaya Lodge at Yosemite is an all-season resort framed by noble evergreen forest and a rich range of Sierra recreation. The lodge, set adjacent to Yosemite National Park's South Gate at an elevation of 5,288 feet, offers 302 rooms, suites and mountain cottage accommodations. Tenaya Lodge offers easy access to Yosemite's iconic attractions and many guests savor the alpine serenity of the new Ascent Spa at Tenaya Lodge. Resort dining options run the table from casual to candlelit at Sierra, Jackalope's, Timberloft and Embers restaurants. For more information, visit TenayaLodge.com.
About Delaware North Companies Parks & Resorts
Delaware North Companies Parks & Resorts is an industry leader providing Stewardship and Hospitality in Special PlacesSM with hotel, retail, food service, recreation and transportation operations at historic and scenic properties in North America and Australia. The company operates Kennedy Space Center Visitor Complex and in Yellowstone, Grand Canyon, Sequoia and Yosemite national parks, including The Ahwahnee and other Yosemite lodges; Tenaya Lodge at Yosemite & the Cottages at Tenaya Lodge; Harrison Hot Springs Resort & Spa in British Columbia; Niagara Falls State Park; The Lodge at Geneva-on-the-Lake in Ohio; Gideon Putnam Resort in Saratoga; Holiday Inn West Yellowstone, Gray Wolf Inn & Suites and Yellowstone Park Hotel. The company also owns and operates five luxury resorts in Australia: Lizard Island Resort, Heron Island Resort, Wilson Island Resort, Kings Canyon Resort and El Questro Homestead and Wilderness Park. To learn more about Delaware North Companies' hospitality management expertise, visit ExperienceDNC.com.