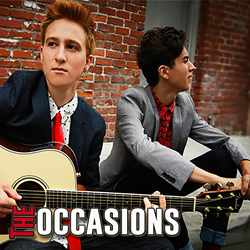 Their collaborative project has turned into one of the most promising independent EP's of the summer that appeals to all generations.
Orange County, CA (PRWEB) August 14, 2014
For the better part of their teen years, Robbie Crebar and Nick Stone have been studying music at the Orange County School of Performing Arts. They have individually and collectively built an incredible musical portfolio and distinctive original sound that has captured the attention of music producers, publishers, A&R's and industry experts.
Stone and Crebar are multi-instrumentalists with a talent and ability well beyond their years. Their collaborative project has turned into one of the most promising independent EP's of the summer that appeals to all generations. In 6 short months, with the help of The OC Hit Factory and DNT Entertainment, The Occasions have developed a sound, built a brand, and continue to over-exceed the expectations of artist developers and industry professionals. Their work ethic, talent, and drive to succeed, has taken them to the next level in their musical careers far beyond most independent artists of their age.
On August 15th, The Occasions will officially drop their first soon-to-be smash single "You and Your Lovin'," (produced by Thomas Barsoe and Phillip Halloun of the OC Hit Factory), which will rock the coastal airwaves of Laguna Beach's KX 93.5 radio and iTunes.
"The Occasions have worked very hard to create a sound that is unique, original and identifiable, and we are confident that they have successfully achieved this with their latest EP. We are so proud to be part of the team behind this incredible project," says Allie Marion of DNT Entertainment.
The duo is quickly garnering a loyal fan following both at their shows and via their social network, and it is without question that you can expect great things from these talented emerging artists. Their first single You and Your Lovin', will be available for purchase on iTunes upon its release August 15th, and will be followed up with their first original music video.
Additional Information:
"The Occasions" is a pop/rock duo consisting of singer/songwriters Nick Stone, born (December 25, 1996), and Robbie Crebar (August 4, 1997). They are best known for their captivating performances, classic yet current sound, and growing popularity in the Orange County music scene. The boys are no stranger to the stage, and have played at a number of respectable OC venues such as the House of Blues, Disneyland, Segerstrom Center, the Grammy Museum, The Whisky, The Coach House and NAMM to name a few. At age 13, Crebar was one of the top 160 contestants in the nation, and top 25 in Los Angeles, to make it through on Season 1 of the popular singing competition X Factor USA. Nick recently took home the People's Choice Award at the 2014 OC Music Awards for his involvement in the band "Undecided Future." The Occasions have been in the studio for the past 6 months working with well-respected Danish Record Producers Thomas Barsoe and Philip Halloun, and are excited to release their first independent single in the summer of 2014.
For media requests or additional information on The Occasions, visit: http://www.TheOccasionsMusic.com or email DNT Entertainment at danithompson(at)dntagency(dot)com.
For a short promotional pre-release period, you can name your price and download the The Occasions latest single at: http://theoccasions1.bandcamp.com/releases.