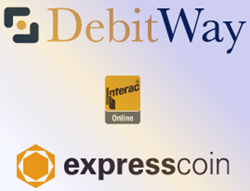 Expansion into Canada has always been part of our growth plan, DebitWay.ca has made cracking the Canadian market a smooth and easy process and we look forward to our continued partnership
Montréal, Canada (PRWEB) August 14, 2014
The Canadian based online payment service provider, DebitWay.ca, continues to aid digital currency merchants in their desire to penetrate the Canadian electronic commerce market. Expresscoin.com is the latest crypto-currency purveyor to partner with the Montreal, Quebec based alternative payment service provider.
DebitWay.ca, whose electronic merchant (eMerchant) partners can be found in litany of online industries ranging from Remittance and Social Gaming to Telecom and Retail, has been growing its portfolio of Digital Currency partners. With over a decade of experience and knowledge in the Canadian eCommerce industry as well as strong ties and affiliations to both Canadian and world-wide banking giants, it comes as no surprise that the digital currency industry is looking to DebitWay.ca in order to secure a foothold in Canada. As a turnkey online payment service provider, DebitWay.ca is helping merchants acquire the mandatory Bank accounts required to launch or expand their business ventures.
Expresscoin.com, an international Digital Currency exchange with offices in California and Washington, was founded in 2013 and reported a record growth in transaction totals during the 2013 fiscal year. Vaulting from a previous 200K total to a $15M. Expresscoin's success spurred the need for growth and expansion into foreign countries, with Canada being the first. "Expansion into Canada has always been part of our growth plan, DebitWay.ca has made cracking the Canadian market a smooth and easy process and we look forward to our continued partnership" said Expresscoin.com CEO William Wheeler. With a firm foothold in Canada, the Santa Monica based digital currency mogul will now be able to supply Canadian applicants with numerous crypto-currencies such as; Bitcoin, Litecoin, Dogecoin, Blackcoin.
When asked why so many Digital Currency merchants opt to partner with DebitWay.ca, Director of Business Development & Production Rod Tomita replied "Crypto-currency has always been about the immediate return and processing of your transaction. Our certified IOP (INTERAC® Online Payment) solution does exactly that. Payments are made in real-time, securely and without the threat of charge backs. It just makes sense if you are a digital currency merchant to deal with a payment gateway that most closely resembles your industry".
With more crypto-currency merchants slated to partner with DebitWay.ca in the coming weeks, The Canadian based payment service provider continues to leave its footprint on the eCommerce industry. "IOP is a fantastic payment solution and we are very proud of its application. However we also offer our partners alternative payment methods like Direct Debit Transfer (DDT) for international transaction processing and Electronic Funds Transfer (EFT) for eCheck processing. Our Goal is demystify the payment processing procedure for our associates and to help them grow their businesses by offering them al the tools they could need" adds Rod Tomita.
Headquartered in Montreal, Canada, since 2004, DebitWay continues to be one of the leading Payment Service Providers in the world, as well as a Certified Payment Provider of INTERAC® Online Payment (IOP) solution in Canada. DebitWay merchant partners continue to benefit of being able to accept bank payments in real-time instantly.