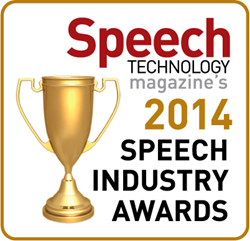 Madison, WI (PRWEB) August 15, 2014
State Collection Service, Inc., a full-service accounts receivable management solutions provider, is proud to announce that it has been presented with SpeechTech Magazine's 2014 Implementation Award. This annual award honors those companies that have had impressive deployments of speech analytics technology, discovering through the process the impact such technology can have on agent productivity, customer service, and a client's bottom line.
When making the decision to utilize the CallMiner Eureka! speech analysis tool, State Collection Service's goal was to increase overall patient satisfaction, the quality of calls, and compliance to federal and state regulations as well as client-specific requirements. It also provided an opportunity to profile the characteristics found in top performers and leverage that information to train and improve results for all call center staff.
"CallMiner's Eureka! has provided us with a basis of differentiation, helping to deliver a more compelling service to our clients," says Tracy Dudek, Vice President of Operations at State Collection Service.
While State Collection Service had been recording calls for many years, the company's team of QA representatives was using handwritten quality assurance forms to review five calls per agent per month, making it an extremely manual, tedious, and time-consuming process. "CallMiner took a lot of the manual work away, allowing us to recoup more than 4,000 employee hours per year. You can get a lot more information when you monitor all calls versus just five a month. We have so much more data now. And it's not anecdotal, it's all factual," she adds. "We're monitoring calls in a way that we just weren't able to before for things like compliance, professionalism, and courtesy."
"Moreover, we never had a way to measure if the caller had a good experience on the phone," Dudek continues. "We have that now. CallMiner gives us a good picture of the total call and everything that happened on the line."
By utilizing CallMiner's automated scoring feature, State Collection Service has been able increase identification of top performers and those requiring additional training. CallMiner has also helped refine specific call language and increase regulatory compliance. Trends among collection groups are analyzed, increasing overall satisfaction among consumers and clients as well as overall productivity and efficiency.
CallMiner allows call searches by numerous factors, providing the ability to drill down into calls and create specific training protocols and measurements for individual clients. Further, State Collection Service has built its own scorecard to align, measure, improve, and incentivize correct agent behaviors to achieve specific goals. Key measures include presence of financial/negotiation language, overall call length, and average duration of silence, as well as other indicators of professionalism including courtesy language and FDCPA compliance. By implementing the scorecard and attaching compensation to its results, State Collection Service has been able to drive improved representative productivity.
"The State Collection Service team is truly one of the best we work with in any vertical," said Terry Leahy, Chief Executive Officer of CallMiner. "Their commitment to utilizing speech analytics to increase overall patient satisfaction and agent productivity is exceptional and their innovation with the Eureka product has been second to none. This award is well deserved."