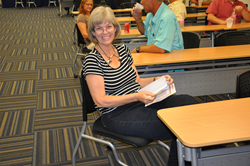 CAPS is in a period of growth and expansion that involves increasingly global activities.
Houston, TX (PRWEB) August 28, 2014
Custom Air Products & Services, Inc. (CAPS), a leading commercial and industrial heating, ventilation and air conditioning (HVAC) company based in Houston, Texas (US) wishes the best of luck to Bea Amaya, Systems Designer, as she takes an educational leave of absence to Texas A&M Qatar to complete her PhD In Technical Communication and Rhetoric from Texas Tech University.
Amaya has been with CAPS since July of 2012 and has made a great impact on their company in just two years. In the beginning of her career at CAPS, she held the title of Marketing Manager. Along with duties such as daily interface with sales team members, press release production and distribution, social media management, and creation of print materials, she went above and beyond her job description. She developed customized Excel and Access solutions for use across the business and to better strategize its future.
Amaya received an Associate's degree in Instrumental Technology from Lee College, a Bachelor's of Science in Technology Leadership and Supervision from the University of Houston, a Master's of Science in Technology Commercialization from University of Texas, and will complete her PhD at Texas Tech. She has completed her education entirely while working full time.
At Texas A&M Qatar she will act as a Research Associate working on two different projects. The first explores gender representation in textbooks and teacher perceptions of stereotyping in Jordan, and the second concerns experiences of Qatari women transitioning from the university into the workplace and the effect of that transition on identities and relationships. These projects will involve primary and secondary research, literature reviews, data coding, data analysis, and preparation of conference proposals and grants.
Once Amaya's time in the Middle East is carried out and her PhD complete, she will be returning to CAPS to take on her new and challenging role as Systems Designer in a full-time capacity in 2015. This role will focus on designing, developing, testing and training on the use of databases, spreadsheets, and other electronic measurement and reporting tools. Amaya says "the biggest advantage to this plan, however, is that these efforts are all working together to give me a stronger background in my field before returning to CAPS next year. CAPS is in a period of growth and expansion that involves increasingly global activities. My educational focus is on exploring how small groups within diverse organizations are finding ways to communicate better, transfer technical information more efficiently, and function more effectively. I can't wait to bring these learnings back to CAPS and find ways to implement them here when I return next year!"
The marketing duties that Amaya once was responsible for will now be carried out by the new marketing coordinator, Shannon Falzon.
About Custom Air Products & Services
Custom Air Products & Services, Inc. is a full-service HVAC company that specializes in the design, construction, installation, modification, and servicing of industrial and commercial air conditioning equipment. CAPS employees are committed to providing exceptional custom design and quality workmanship at competitive prices.
Custom Air Products & Services currently occupies five (5) modern facilities, totaling 200,000 square feet in size. These buildings include administrative and engineering offices, training facilities, a filter warehouse, and service shops for fabrication, manufacturing, and modifications. CAPS services are provided to customers throughout the United States and Mexico while their manufactured products have been delivered to sites around the world. Currently CAPS has equipment operating on six (6) continents and in 52 countries.
For more information, contact Custom Air Products at 713.460.9009 or visit them on the web at http://www.customairproducts.com.
###
If you'd like more information about this topic, please call Shannon Falzon at 713.460.9009 or email her at shannon.falzon(at)customairproducts(dot)com.