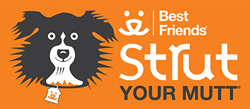 We are thrilled that Live Oak Bank is supporting the event and helping us, along with all of our local partners, to Save Them All.
Wilmington, NC (PRWEB) August 21, 2014
Best Friends Animal Society® is the nation's leading organization advocating a no-kill approach to helping homeless animals. Since 1984, the charitable organization has helped reduce the number of animals euthanized in the United States each year from 17 million to 3 million. The non-profit's programs combat euthanization by putting animals on the path to adoption.
In 1995, Best Friends started a small dog walk event in its home state of Utah. Since then, Best Friends has taken Strut Your Mutt® beyond its Salt Lake City birthplace to 12 major cities throughout the U.S. In 2013 alone, Strut your Mutt raised $1.7 million with 15,000 walkers accompanied by their 12,000 four-legged friends.
What makes this event special in the world of non-profit organizations is that Best Friends Animal Society provides the infrastructure for the events but allows local organizations to benefit from funds raised. Proceeds from Strut Your Mutt provide an important part of each groups' annual operating funds.
"Strut Your Mutt raises much-needed funds for local animal welfare organizations to help them save and care for more pets in their communities," said Greta Palmer, Senior Manager, Marketing and Brand Strategy for Best Friends Animal Society. "We are thrilled that Live Oak Bank is supporting the event and helping us, along with all of our local partners, to Save Them All."
"Live Oak Bank is excited to partner with Best Friends Animal Society through their annual Strut your Mutt walks," expressed Laura Petty, Public Relations for Live Oak Bank. "We have engaged our employees and customers to walk together with their four-legged friends in Houston, New York City, San Francisco, and Jacksonville, FL. It is a great opportunity to come together and raise money to save animals in these cities."
About Live Oak Bank
Live Oak Bank was founded in 2008 to provide small business loans to professionals across the country looking to start or expand their business. Aside from acquisitions and refinancing, Live Oak's lenders specialize in real estate loans and ground up construction projects. The bank originally began lending to veterinarians, and has since expanded not only into other healthcare-related industries, but into specialty areas as well. Having such a keen industry focus and trade specialists on board enables the bank to offer an exceptional level of service to the client. To learn more about Live Oak Bank, please visit http://www.liveoakbank.com.
Contact:
Laura Petty, Marketing Programs Manager
910.796.1676 office
laura(dot)petty(at)liveoakbank(dot)com
Live Oak Banking Company. Member FDIC. 2014 Live Oak Banking Company. All rights reserved.
About Best Friends Animal Society ®
Best Friends Animal Society is a national animal welfare organization focused on ending the killing of dogs and cats in America's shelters. An authority and leader in the no-kill movement, Best Friends runs the nation's largest no-kill sanctuary for companion animals, as well as lifesaving programs in partnership with rescue groups and shelters across the country. Since its founding in 1984, Best Friends has helped reduce the number of animals killed in shelters nationwide from 17 million per year to about 4 million. Best Friends has the knowledge, technical expertise and on-the-ground network to end the killing and Save Them All®.
To become a fan of Best Friends Animal Society on Facebook, go to: http://www.facebook.com/bestfriendsanimalsociety.
Follow Best Friends on Twitter: http://twitter.com/BFAS.
Contact:
Barbara Williamson, Media Relations Manager
435.644.4408 office
barbara(at)bestfriends(dot)org