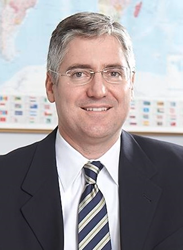 "We are excited to add Shawl's substantial global sales and marketing experience with leading breast imaging companies as Hologic, Siemens and Philips to the executive team," said Highnam.
Wellington, New Zealand (PRWEB) August 14, 2014
Volpara Solutions, leaders in the development of quantitative breast imaging tools, announced that healthcare technology industry veteran Shawl Lobree has joined the company as Global Vice President of Sales and Marketing.
"As the adoption of Volpara Solutions' suite of quantitative breast imaging tools continues to grow worldwide, we are excited to add Shawl's substantial global sales and marketing experience with leading breast imaging companies as Hologic, Siemens and Philips to the executive team. With a proven track record of invigorating teams, executing product development and marketing strategies, Shawl has launched dozens of products in his career and brings a deep commitment to customers," said Ralph Highnam, Ph.D., CEO of Volpara Solutions.
Lobree is a seasoned executive with more than 25 years of experience in the healthcare technology and breast imaging industries. Lobree has gained substantial global business experience launching and marketing products throughout Europe, China, Asia Pacific, and Latin America, holding increasingly senior positions in sales, marketing, and product management with Philips, Hologic, R2 Technology, and Siemens.
"I am very proud to be joining Volpara Solutions. The growing body of publications and clinical evidence shows that Volpara's suite of tools is transforming the early detection and management of breast cancer and is helping women at high risk receive the tailored care they need," said Lobree. "I am also enthused to be joining the Volpara's team of veteran sales and marketing leaders: David Mezzoprete, Don Alvarez, Steve Moseley, and Chris Joseph, who have deep experience in breast imaging and radiology via their prior work with leading companies including Fuji, Carestream, Lorad, R2, and others."
Most recently, Lobree was vice president of global marketing for the Diagnostic X-ray business of Philips Healthcare and then led Marketing Operations and Strategy for Philips multi-billion dollar Imaging Systems business. Previously, he served as vice president of marketing for R2 Technology, where he led the roll-out of several new mammography CAD products and the R2 Citra multi-modality, multi-vendor breast imaging workstation. After Hologic acquired R2, Lobree led the introduction of the international version of the Selenia digital mammography system and helped significantly grow Hologic's mammography market share outside of the United States. In 1997, he co-founded the women's health website Imaginis.com and maintained a focus on breast imaging with his involvement in the launch of Siemens' first digital mammography system. Lobree received a Bachelor's of Science degree in Biomedical Engineering from Tulane University.
Cleared by the FDA, HealthCanada, the TGA and CE-marked, VolparaDensity is used by radiologists to objectively assess density from both digital mammography and tomosynthesis images to help doctors evaluate who might benefit from additional screening. Highly correlated to breast MR assessments, VolparaDensity is a reliable tool that automatically generates an objective measurement of volumetric breast density correlated to the ACR (American College of Radiology) breast density categories. To date, more than 3-million women have had their breast density analyzed using VolparaDensity. VolparaDensity is part of a suite of quantitative breast imaging tools built on the VolparaSolutions algorithm that allows for personalized measurements of density, patient dose, breast compression and other factors designed to help maintain accuracy and consistent quality in breast screening.
About Volpara Solutions
Founded to enable radiologists to give women the most accurate information possible regarding their breast health, Volpara Solutions is the wholly owned sales and marketing arm of Matakina Technology Limited of New Zealand. Matakina's founders and Board of Directors includes John Hood, PhD, former Vice Chancellor of the University of Oxford, UK; Ralph Highnam, PhD, former CEO of Mirada Solutions, one of the University of Oxford's most successful spin-outs of recent times and co-author of the seminal book Mammographic Image Analysis; and Professor Sir Michael Brady, a serial entrepreneur who recently retired from the University of Oxford where he was Professor of Information Technology for 25 years.
# # #
Contacts:
Volpara Solutions
Chris K. Joseph
510/435-4031
chris.joseph(at)volparasolutions(dot)com