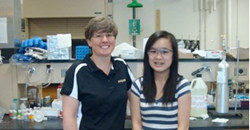 San Francisco, CA. (PRWEB) August 14, 2014
Phoebe Hu, a high school student from Michigan, is presenting among university professors and researchers at the 248th American Chemical Society (ACS) National Meeting and Exposition this week in San Francisco, Calif. Hu completed this advanced-level research with support from the U.S. Army Educational Outreach Program (AEOP)'s Research and Engineering Apprenticeship Program (REAP).
Hu worked in the biomedical lab through REAP at Michigan Technological University (MTU) and collected significant data under the guidance of her mentor, Dr. Megan Frost who is a part of the Biomedical Engineering Department and Materials Science and Engineering department at MTU. Hu wrote an abstract for the "Development of Biodegradable SNAP/PLLA Particles for Local Nitric Oxide (NO) Delivery." With her mentor's help, she submitted the abstract to ACS, hoping it would be accepted and that she could earn a spot as a presenter at their 248th national convention in San Francisco.
"At that point, I didn't have high hopes," Hu said. "I was a high school student, nearly half the age of most of the other presenters. I was inexperienced, less prepared, and my confidence level was almost rock bottom. I couldn't believe my eyes when less than a month later I received an email from the ACS saying that my abstract had been accepted."
REAP is a summer STEM program that gives talented high school students, from historically under-represented and undeserved groups, the opportunity to experience research apprenticeships at area colleges and universities. Students in REAP work under the direct supervision of a mentor on a research project. Participants work 5-8 weeks exposed to the real world of research, gain valuable mentorship, and learn about career opportunities in STEM.
The mixture of research experience and mentorship was important for Hu. From a young age, she knew she had a passion for making an impact in the lives of others and wanted to become a doctor. After working in the biomedical lab, Hu had more confidence in her knowledge and discovered her ultimate dream: to work permanently in an environment similar to the one at MTU. Although she had worries of being accepted by the college students in this program because of her age, she was welcomed and quickly realized that those who work behind the scenes in labs are just as impactful as doctors and people in the field.
"The acceptance letter was two-sided, though," Hu said. "It represented the fact that I'd reached my goal of presenting my research at the meeting, but I didn't have the monetary means to travel from Michigan to California." With the help of Renie O'Mara, director of REAP, and Jill Malcom Academy of Applied Science Development Director, Hu appealed to Dr. Sheldon Apsell and Toby Kusmer, Esq., board members of AAS, who donated the funds she needed to travel.
After much perseverance and commitment, Hu's presentation in San Francisco makes her one step closer to fulfilling her dream. She continuously expresses gratitude to all who helped her reach her goal.
About AEOP
The Army Educational Outreach Program (AEOP) is comprised of Army-sponsored research, education, competitions, internships and practical experiences designed to engage and guide students as well as teachers in science, technology, engineering, and mathematics (STEM). From elementary school through graduate school, students of all proficiency levels, interests, ethnic, economic and academic backgrounds are encouraged to participate in real world experiences involving these important disciplines. More information is available at http://www.usaeop.com.