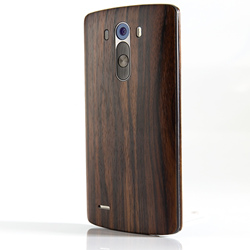 Andover, KS (PRWEB) August 14, 2014
The recent demand for wraps for a new device on the market is anything but surprising for the innovative tech accessory company, Slickwraps. Having seen that the LG G2 was such a smashing success with a loyal following, the company has elected to continue that trend with the latest flagship model from LG, the LG G3.
Keeping in line with LG's slogan for the new model, "Simple is the new smart," Slickwraps has continued their trademark dedication to ultra-slim durable protection that maintains the integrity of the design carefully molded by the precise designers at LG. How do they accomplish this lofty goal? Slickwraps has shown commitment to respecting the intentions of the designer by allowing their wraps to accent and enhance the already beautiful lines of the LG G3 with no alterations to the shape or dimensions of the phone that they adorn.
Slickwraps wants to help new LG G3 users customize their new phones, bringing their own personalities to these devices that accompany them through most of their day, if not around the clock. To make wrapping your phone a personalized experience, over 60 different styles have been released, ranging from Carbon Fiber to genuine Horween Leather, all precision cut for a consistently flawless fit. Other designs offered include Wood, Glow-in-the-Dark, and the Naked wrap designed for those who love their phones just as they are but want to shield them from damage.
Beyond their eye-catching appearance and careful design, Slickwraps products are also incredibly durable, boasting precision cut sheaths composed of high-grade materials that both protect your phone and resist wear themselves. To complete the promised 360 degrees of protection, for every wrap sold, they send a custom-sized screen protector designed to fit flush against the wrap.
With the past success of the G2 in mind, Slickwraps is extremely enthusiastic about the new release, and is looking forward to the feedback of customers as they continue to launch new designs and styles in the coming months.
About Slickwraps
Slickwraps is the premier source for quality consumer electronics protection and accessories. Its products have been featured in many of the top online electronics magazines and technology blogs. Specializing in smart phones and other small electronics, Slickwraps strives to sell the highest quality materials at the lowest prices possible. The accessories company is constantly looking to reach consumers worldwide with new, one-of-a-kind products.