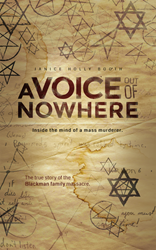 Severe depression is a mental illness and it is not conquered by fame and fortune.
Charlotte, NC (PRWEB) August 14, 2014
In the wake of Robin Williams' suicide, there is one question on the minds of those who mourn his passing: how could someone with everything – dazzling talent, financial and creative success, respect of his peers, a loving family, and adoration from his fans – feel that there was so little to live for that he took his own life?
"Severe depression is a mental illness and it is not conquered by fame and fortune," says Janice Holly Booth, whose true crime novel A Voice out of Nowhere tells the factual story of a young man who committed mass murder while under the influence of untreated paranoid schizophrenia. "And when you have a severe form of mental illness – in Williams' case depression – you will battle those dark demons your whole life."
There is a tendency, says Booth, to try and make sense of radical actions – like suicide or other violence – using our own frames of reference. "But that's not realistic," she says. "Thoughts, feelings, emotions – reality itself – is distorted in the mind of a person suffering from severe mental illness." When Booth wrote A Voice Out of Nowhere, she did so with the express intention of helping people understand what it is like inside the mind of a person who is experiencing psychosis. The book has been praised by a forensic psychiatrist as a "brilliantly written journey into the mind of a paranoid schizophrenic."
Booth's hope is that Williams' tragic passing will inspire people to learn more about mental illness and advocate for better, more proactive care for the mentally ill. She also hopes that for those suffering from depression, they will seek help. "Robin Williams couldn't beat his depression in the end, and he had every connection and resource available to him," says Booth. "I hope that will spur people suffering from depression into action: they should not delay in finding assistance for their condition."
ABOUT JANICE HOLLY BOOTH: Born in British Columbia,Janice Holly Booth is an avid solo traveler, author, and international keynote speaker. Her first book, Only Pack What You Can Carry, published by National Geographic, is an inspirational guide to personal growth through solo travel. Her most recent book, A Voice out of Nowhere: Inside the mind of a mass murderer, is a #1 best-seller. She currently lives near Charlotte, North Carolina.