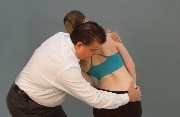 Headaches are a very common diagnosis often seen by PTs. - Janelle Allen, HOS Instructor
Astoria, NY (PRWEB) August 15, 2014
From lower back pain to headaches, people in every walk of life suffer from pain related to the muscular system.
Cindy, facing the challenges of raising four children, found the rigors of everyday life causing headaches that just never fully went away. "Pain had just become a way of life for me. I knew taking prescription or over-the-counter pain pills was not the answer, but I'd just about given up on getting any relief." Just recently Cindy decided to try physical therapy. Since her pain was mechanically induced, she received various manual therapy techniques. Her pain began to lessen almost immediately from this treatment.
Health care providers in Astoria, NY will soon have the opportunity to attend a comprehensive cervical spine course to learn treatment solutions to complicated pain cases.
Hands-On Seminars has just announced an upcoming intensive training seminar in a Comprehensive Manual Therapy Approach to Cervical Spine Pathology. The course will be taught in Astoria, NY on September 13-14, 2014.
This seminar teaches the most successful approaches for the evaluation and treatment of mechanically induced pain.
Participants will learn advanced diagnostic and treatment techniques to alleviate pain and will participate in extensive lab sessions. Instruction includes utilizing advanced multimedia methods.
This seminar will be conducted by Hands-On Seminars faculty member Ron Meador, PT, DPT, MTC, MCMT.
Ron has been specializing in manual physical therapy for over 25 years. He is particularly familiar with the philosophies and techniques of noted practitioners such as Paris, Maitland, Cyriax, Butler and Evjenth. He has a particular passion for staying current in the field, disseminating that knowledge to fellow physical therapists. Dr. Meader has been published in The Journal of Orthopedic and Sports Physical Therapy.
Ron holds a Doctorate in Physical Therapy from the University of St. Augustine For Health Sciences, and received his undergraduate training at the State University of New York at Buffalo.
The material covered in the seminar is appropriate for PTs, PTAs, OTs, OTAs, LMTs, ATCs and Physicians. On completion of this course participants will receive 16.8 CEUs.
Hands-On Seminars, Inc. (HOS) is the leading international continuing education organization in the world, awarded the Lecture & Seminars Award as the best Lecture and Seminar Company from the Lectures and Seminars Bureau over the past two years. Their purpose is to provide the best quality Manual Therapy seminars at an affordable cost. For further information, please contact: Alexandra Rosner at 888-767-5003 or info(at)handsonseminars(dot)com.