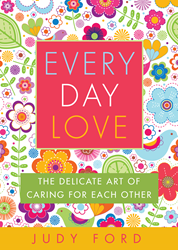 "This inspirational book reminds us that 'love matters every day.'"—Northwest Books
(PRWEB) August 14, 2014
Judy Ford is a psychotherapist, counsellor and the author of Every Day Love: The Delicate Art of Caring for Each Other (Viva Editions). She sat down with the UK's Telegraph to divulge her top five secrets for long-term love.
Among her simple, every day tips are: "Understand that you can only develop yourself. We often fall in love with a person who has the qualities that we would like to develop in ourselves. We see all the budding possibilities and are excited to be accepted by such a wonderful and perfect person. Watch out! This sometimes means that rather than developing the qualities in yourself that you would like, you will try to develop the other person's potential instead, and this creates havoc."
Every Day Love
The Delicate Art of Caring for Each Other
Falling in love is easy; sustaining love is difficult. From the euphoric twinges of a new romance to the comforting reassurances of fingers entwined and connected, our longing for love is universal. Nationally renowned counselor and author Judy Ford says: "I've been studying relationships for over twenty-five years and I can testify to the fact that people still have much to learn about the nitty-gritty of loving." Within these pages, for the first time, Judy Ford presents her field-tested "love lessons" mined from private practice and workshops to help readers build and preserve successful relationships. Every Day Love is also available as an audiobook.