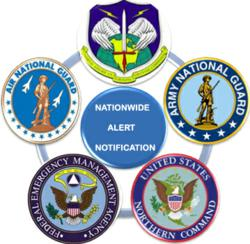 Being a party to a top rated notification system in the USAF is a great honor. When lives are at stake, seconds count.
Chatham, New Jersey (PRWEB) August 14, 2014
Desktop Alert Inc., the industry leader in 'less than one minute' network-centric mass warning notification systems (MWNS) to military, government, healthcare, higher education and industrial organizations, today announced that its Microsoft Windows® .Net based emergency communication platform was recently commended in a real-world incident during an ongoing inspection by a Major USAF Command Inspector General.
The South Dakota 114th Air National Guard's Fighter Wings redundant capability allowed notification within one minute of a real world incident, exceeding Air Force requirements by 90 percent. All Desktop Alerting received within 10-30 seconds across the wing. The Flight was chosen by National Guard Bureau to help develop ground-breaking Emergency Operations Center (MEOC) to meet significant disaster response needs for the Air Force. The EOC command and control was determined to be in line with all required Air Force Incident Management System directives and able to provide excellent support operations for the incident commander and those responders at the scene of an incident, through the use of memorandums of agreement with local and state government.
"Using the Desktop Alert Mass Notification System, the wing was able to alert numerous end-points such as network alerting pop-ups to workstations, e-mail alerts, text messaging and phone calls, alert beacons and other end-points in near instantaneous fashion as reported by the inspector general," said Howard Ryan, CEO Desktop Alert Inc.
In the Mission-Assurance Command and Control category the wing was found to have a mission assurance command and control rated as is highly effective. It was determined in the report that the wing utilized state-of-the-art incident response systems and efficient emergency management quick reaction checklists.
"We congratulate the South Dakota 114th Air National Guard Fighter Wing for its top-rated USAF alerting platform. Being a party to a top rated notification system in the USAF is a great honor. When lives are at stake, seconds count. There is a very definite difference between good software and bad software. There is no time for bandwidth intensive/sluggish alert delivery. Latency based alerts not only put the mission in peril but risk alert publication with false positives during an emergent event! The road to failure is often times be paved with good intentions but when it comes to a reliable and fast notification platform; failure is definitely not an option. As a company, we hang our hat on this report," Ryan added.
About Desktop Alert: http://www.desktopalert.net
Worldwide U.S. military organizations such as the U.S. National Guard, the U.S. Air Force Academy, the U.S. Military Academy at West Point, Multi-National Forces in Iraq, the U.S. Air Force, and The U.S. Army now utilize the Desktop Alert total mass notification platform daily for their organization's emergency communication requirements. Desktop Alert can contact thousands of computer users at their desktop and require them to click to confirm receipt of the message flashed on their screen. Those not verified can then be listed on a report and/or sent as a "Target Package" to be automatically contacted by other means such as email, SMS, phone calls and other devices.