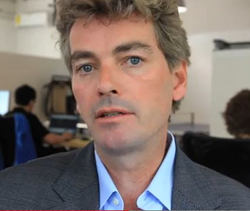 We are booking meetings and product demonstrations at the ASIS International 2014 Conference in Atlanta,
Toronto, Ontario, Canada (PRWEB) August 14, 2014
Guardly Founder Josh Sookman today officially announced the appointment of Rob Moffat as the company's new CEO. Effective immediately, Moffat will help lead sales, marketing and business development for this Toronto-based mobile situational awareness and personnel safety solutions provider. Moffat brings almost two decades of mobile emergency preparedness and incident management experience to Guardly, known for its leading edge work in developing and deploying situational awareness and crisis communications smartphone apps for enterprise clients. These include owner/operators of shopping malls and large properties, as well as security providers for school campuses, government buildings, hospitals and transit systems.
Moffat's appointment to Guardly's senior customer-facing role coincides with significant technical advancements to its Indoor Positioning System (IPS), which will be announced in the coming weeks. Guardly IPS is a proprietary system for smartphones that uses WiFi access points to pinpoint the floors and rooms of people requesting help inside buildings. It then immediately establishes real-time voice communications as well as a secure chat between the caller and emergency response or security operator. One of Moffat's first major tasks as CEO of Guardly is to take the reigns and drive adoption of Guardly IPS in US and International markets.
As an innovator who helped take cumbersome paper-based emergency plans onto mobile devices, Moffat has worked closely with tactical, EMS, fire and law enforcement first responders for many years. As a co-founder, shareholder and seller of Wallace Wireless, Moffat also brings a wealth of successful start-up knowledge to Guardly.
"I've had to hit the ground running alongside Josh since we first started setting things up for my new role here," says Moffat. "We're just a couple of weeks away from a live active shooter simulation at a large American shopping mall. How well we perform live will be not only seen, but experienced in real-time by hundreds of law enforcement and first responder personnel. This is powerful, dynamic crisis communications at work in real time and it's right up our alley."
Founded in 2010 by Sookman, Guardly has quickly attracted interest from the retail shopping mall property market since the recent high profile events at the Westgate Mall in Nairobi and at ongoing mall shootings like the July 15th shopping mall fashion show shooting in Las Vegas. "Retailers and mall owners have a duty of care to manage and mitigate potential risks and liabilities to its staff and shoppers alike," explains Sookman. "These events have precipitated a need to re-evaluate acceptable risks, and many now see the direct benefits of deploying an affordable, easily deployable mobile solutions like ours."
Guardly is booking meetings and will be providing product demonstrations at the ASIS International 2014 conference in Atlanta, GA from September 29 – October 1 at Booth #2551 and as part of a Global Security Operations Center at Booth #MR7.
###
For more information, please contact:
Rob Moffat, CEO
+1 (416) 528-7662
robm(at)guardly(dot)com
About Guardly
Guardly provides mobile safety and security solutions for enterprise organizations, campuses, and cities. Leveraging the latest cloud, mobile, indoor-positioning and real-time technologies, Guardly is radically improving traditional emergency notification, communication and management. With over 70% of all emergency calls now coming from mobile phones, more emergency response teams rely on Guardly's modern infrastructure to better protect mobile employees. Guardly mobile security applications on Android, iPhone, Windows Phone and BlackBerry act as personal emergency phones that broadcast GPS and indoor location, profile and identity, and support two-way communication with security operators and authorities. For Security Operations Centers (SOCs), Guardly provides an integrated platform for incident monitoring and response, helping security operators make faster and more effective decisions. For the 10% of emergency calls that are non-responsive, Guardly's industry-first Indoor Positioning System (IPS) can transmit the building, floor and room location of an emergency caller to security operators and help them find these callers in minutes, not hours. Guardly's Mobile Mass Notification System sends 500,000 geo-targeted notifications in seconds, utilizing unique messaging protocols for higher reliability, performance and interaction. To learn more about Guardly please visit https://www.guardly.com.