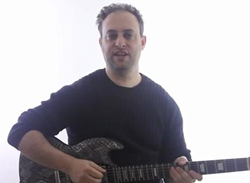 (PRWEB) August 14, 2014
"I have a special gift for you if you are a beginner guitarist," says Johnson. "I know that there is a million videos out there and it can be overwhelming. What do you learn? Who do you listen too? And how should you practice? Well I want to help you out by giving you a free copy of my 17-page EBook called The Fastest Easiest Way to Play All Your Favorite Songs on Guitar. I absolutely know it's going to save you a ton of time and put you on the right path to becoming a rock solid guitar player as fast as possible." Johnson says to just click the link in the description of the video for your free copy. Be sure to head on over to GuitarControl.com for more great lessons and insight on learning to play the guitar.
Claude Johnson:
Claude Johnson, a native of Philadelphia PA, began playing guitar in 1990 after being inspired by players like Jimi Hendrix, Eric Clapton, and Stevie Ray Vaughn. He is the creator of GuitarControl.com and has helped thousands of people to learn to play the guitar with his critically acclaimed instructional DVD courses, all available at GuitarControl.com.
About GuitarControl.com:
GuitarControl.com is the leader in modern guitar instruction. It's packed with recourses including articles, video lessons, and the best videos in the business for the beginner to the advanced guitar student taught by the best instructors out there. Whether you are into the blues, rock, jazz, metal, folk, or anything in between, they have you covered.