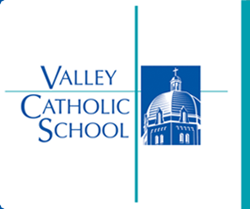 We like the company's name and what it stands for. We talked to other schools with the Shaw Sports Turf product and were impressed with the quality of product and level of service.
Beaverton, Oregon (PRWEB) August 14, 2014
Valley Catholic School is in the process of installing a new Shaw Sports Turf field.
The private school, which shares in the mission of the Sisters of St. Mary of Oregon (SSMO), is nearly finished with the installation of the world-class playing surface.
"It means so much to us," said Sister Adele Marie Altenhofen, SSMO Ministries Corporation President. "It builds excitement. It builds momentum. I think it honors those who have come before us."
Bob Weber, President of Valley Catholic School, said the field complements the lights, which were added last year.
"We installed lights a year ago," said Weber. "The addition of the Shaw Sports Turf field gives us more play time that a natural grass field just doesn't allow. Our climate is a challenge, so the ability to play in unfavorable weather conditions, along with the addition of the lights, gives us more quality time on the field."
Weber feels the addition of the field helps in other ways, as well.
"We have a strong athletic program and regularly compete for state titles in a variety of sports," he said. Having access to first-class facilities is great for our students and for the next generation at Valley Catholic School. The upgrade to our facilities also attracts potential families and students, helping us fulfill our mission."
"This is going to be a wonderful facility," said Lauren Holmes, with construction firm Lease Crutcher Lewis of Portland. "Before the lights and the addition of Shaw Sports Turf, most games were on Saturday afternoons. Now, the school will be able to create a unique sports atmosphere that the school can call its own."
The new playing surface will be Shaw Sports Turf's Legion system, which is a combination of high-performance monofilament fibers and a durable slit film fiber. The slit film fiber is a workhorse which will handle the workload, while the monofilament provides a more resilient surface that enhances performance characteristics. The Legion system is also used on the game and practice fields at schools such as Vanderbilt University.
"We looked at several other systems," said Weber. "We liked the Legion system because the people from Shaw explained how it would benefit our programs. We like the company's name and what it stands for. We talked to other schools with the Shaw Sports Turf product and were impressed with the quality of product and level of service."
"Bringing Shaw Sports Turf to Valley Catholic School has been a great project for us," said Kevin Senf, Territory Manager with Shaw Sports Turf. "Last year the Valiants competed in the state football playoffs for the first time and we hope the new field will help them capitalize on that success."
The Valiants will play their first game on the new field on Friday, September 5, against Estacada High School.
About Shaw Sports Turf
A wholly-owned subsidiary of Berkshire Hathaway Inc., Shaw Industries is a full flooring provider to the residential and commercial markets. Shaw supplies carpet, hardwood, laminate, resilient, and tile/ stone flooring products, as well as synthetic turf. Shaw Sports Turf is one of the leading synthetic turf companies in North America and has represented quality and innovation for more than two decades with over 1,500 successful installations, including an impressive list of high-profile field installations. For more information please visit http://www.shawsportsturf.com, call 866-703-4004 or find us on Facebook.